At TricorBraun, we pride ourselves on having the most knowledgeable Packaging Consultants in the industry; now we have a way to share their knowledge with you. In this blog series we'll be focused on shedding light on some of the definitions and specifics about rigid packaging, since packaging terms have developed into a language of their own. We hope that these guides help educate as you browse our website for the perfect packaging solution.
We begin this series with basic bottle anatomy. Take a look at the image below to match the definitions with the terms.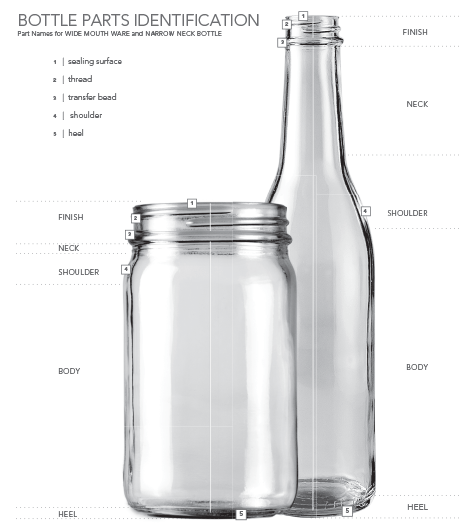 Finish
In general, the plastic or glass forming the opening of a container shaped to accommodate a specific closure. The finish description reflects the outside diameter of a bottle or jar's neck in millimeters, and a thread configuration or some other description of how the closure fits on the container. The term originated from when glass bottles were hand blown and the top was the last piece to be completed.
Neck
The part of a container where the bottle cross section decreases to form the finish.
1. Sealing Surface
The portion of a glass or plastic container finish which will make contact with the interior liner of the cap to effect the seal.
2. Thread
The indented curved formed section of the cap on the skirt that engages and matches the thread of the container for screw fit purposes. The thread may be continuous (pictured below) or interrupted.
3. Transfer Bead
A projecting bead on the outer surface of threaded containers, usually just below the finish, to provide a surface of engagement for the jaws of handling devices during manufacture.
4. Shoulder
The part of a container between the main body and the neck usually sloped.
5. Heel
The lower portion of a glass or plastic container, starting with the bearing surface of the bottom and including a small portion of the lower sidewall.

Do packaging terms have you flustered? Have questions regarding the perfect closure fit? We are here to help! Give us a call today.
---
TALK TO A PACKAGING CONSULTANT
Whether you're looking for a stock package or a groundbreaking custom design, TricorBraun's proven process will guide your packaging decisions from napkin sketch all the way to the retail shelf.