Wellness has become a global lifestyle and as experts learn more about the links between the health of the mind and the health of the body, mental health and wellbeing products are coming under greater focus.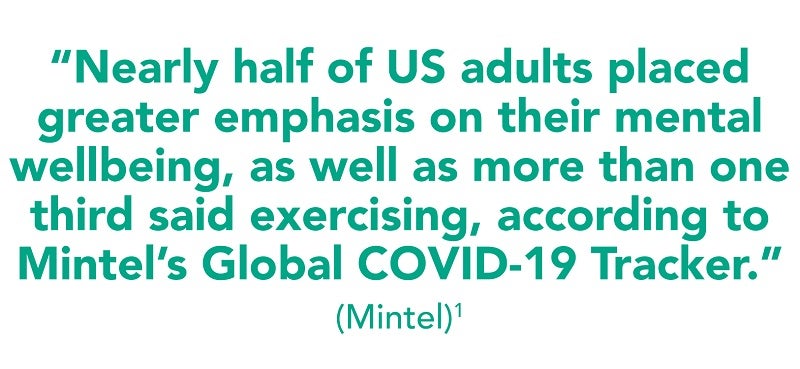 With the effects of Covid-19 still lingering, consumers are seeking ways to reduce stress, improve sleep, or unwind at home. Products that promote healthy rituals, routine self-care, and small indulgences will help consumers tend to their mental wellbeing during a time when many things feel out of their control.2
Stress Relief & Relaxation
From gummies to oils, scrubs to masks - products that help consumers unwind or focus on self-care can be found in a variety of formats across nutraceutical and personal care categories.

Consumers have commonly looked to natural products for their health and relaxation benefits, but now they also expect scientific validation of the product efficacy. Look for products with functional ingredients or multi-sensory formulations3 to enhance the experience. In all cases, consumers will value packages that promote hygienic application and a secure reseal to keep the product clean for reuse.
Common Packaging Formats for Stress Relief & Relaxation Products:
Child-Resistant Closures
Droppers
Flexibles with Spouts
Jars
Focus and Clarity
Mindfulness is the practice of slowing down to take in one's present environment, thoughts, and emotions, moment by moment. It has become a common practice for those looking to gain awareness by learning to appreciate both the ups and downs of life through a curious and appreciative lens.

Products that boost memory and promote clarity will help consumers maintain a fresh mind while they go about their day. Natural ingredients like adaptogens have been used for centuries in Chinese and Ayurvedic healing to help the body handle stress. Now formats like capsules, water soluble powders, and lozenges provide consumers the variety to conveniently add a mental boost into their routine ease.
Common Packaging Formats for Mental Clarity Products:
Child-Resistant Closures
Powder canisters and scoops
Single-serving sachets
Resealable flexible pouches
Sleep Hygiene
Research has shown sleep to be an essential component of both our long term mental and physical health. Products that address "sleep hygiene" or the healthy pattern of behaviors that promote quality sleep are gaining traction with stressed-out consumers who find themselves in need of help to achieve high quality rest.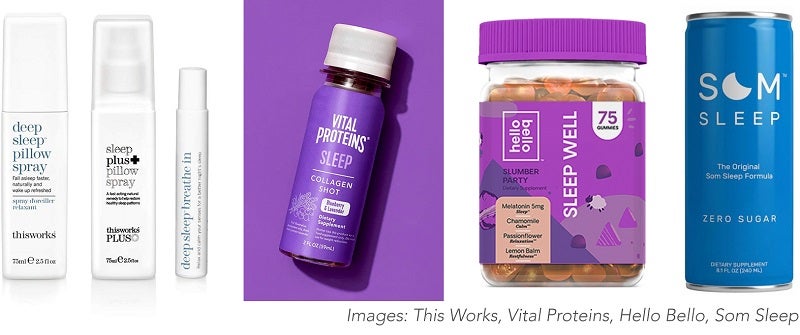 Creating a consistent bedtime routine helps the body wind down, and there are products for every stage of this ritual. Thirty minutes before bed, consumers could try a melatonin gummy or a beverage that uses natural and active ingredients to promote a regular sleep cycle. Just before bed, they might try spritzing their pillowcase with a lavender-scented spray for relaxation effects.
Common Packaging Formats for Sleep Hygiene Products
Sprayers
PET bottles with tamper-evident closures
Child-resistant closures
Aluminum cans
Packaging Design Points
Packaging is the first impression the consumer has of a mental health and wellbeing product. At minimum the package must guarantee a protected and untampered product to gain the consumer's trust.
Convenient formats that create an indulgent experience will help consumers maintain a daily ritual and develop the emotional connection to promote repurchase.4
Consider: Transparent materials that showcase the product inside and promote authenticity. Or textures and finishes that feel soothing when the package is held in consumers hands.

Clean, neutral graphics that clearly communicate benefits assure consumers about the intended purpose and product efficacy.
Consider: How color relates to mood. Cool colors speak to the feeling of relaxation and indulgence, while warm colors communicate energy and a bright mind.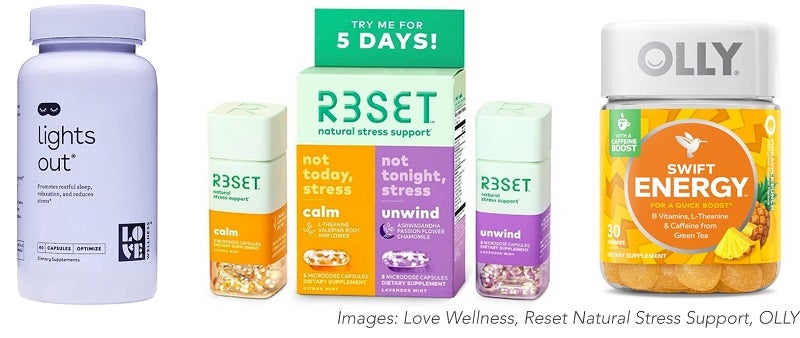 For more information on the best packaging solutions for mental health and wellbeing products, email us at marketing@tricorbraun.com
Sources:
1Wroble, Andrea. The Next Normal of COVID-19 Amplifies Basic Wellness Needs. Mintel Blog. June 10, 2020.
2Wroble, Andrea. Wellness Trends to Watch in 2021. Mintel Blog. January 20, 2021.
3Global Food & Drink Trends. Mintel. 2021.
4Punchard, Benjamin. 2021 Global Packaging Trend: Packaging Touchpoints. Mintel. January 12, 2021.
---
TALK TO A PACKAGING CONSULTANT
Whether you're looking for a stock package or a groundbreaking custom design, TricorBraun's proven process will guide your packaging decisions from napkin sketch all the way to the retail shelf.