The TricorBraun Pulse - July 2021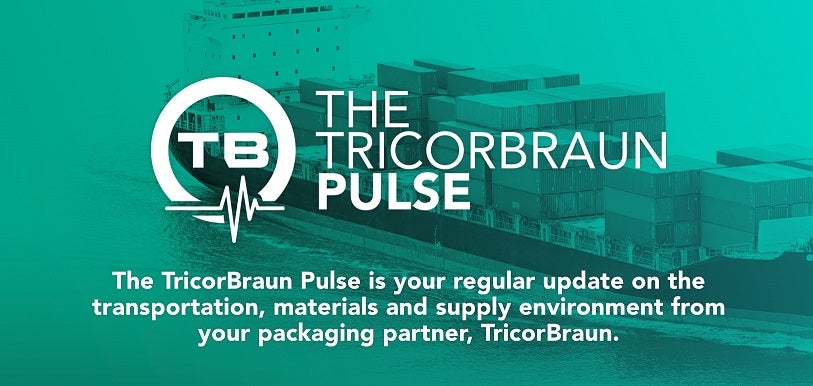 A Message from our Chief Commercial Officer and Chief Operations Officer

We continue to operate in a challenging environment, ripe with global supply chain disruptions, delays, and shortages―and the threat of additional interruptions as COVID infections continue to surge. Our entire team remains steadfast in our commitment to help you navigate through these difficult times.
Meanwhile, record-breaking inflation in the US means companies are looking for creative solutions. Visit this month's section on inflation to learn how some companies are balancing higher expenses through changes to their packaging.
Please contact us if our team can further support you. TricorBraun is here to help. We appreciate and value your business.
Sincerely,



The Big Picture
Ocean freight container prices continue to surge with no relief in sight as we approach the peak shipping season. The Port of Yantian's (China) June shutdown continues to cause shipping snarls as new safety measures slow decongestion. Multiple ocean carriers temporarily halted service to the port of Oakland due to continued congestion.
Details
Moody's predicts that ocean freight rates will remain at record levels thru 2021 and perhaps into mid-2022, as vessel space demand continues to exceed supply globally.
Safety measures following June's COVID-related shutdown at the Port of Yantian―the third busiest gateway in the world—will continue to cause delays. Expert opinions vary on the timeline to clear up the massive backlog, but consensus is to expect continued congestion.
Increased shipping rates and longer delivery times are expected to stretch out even more as we enter the peak season for inventory rebuilding in preparation for the holiday season. The Freightos Baltic Index shows daily rates from China to the US West Coast are up 66% since January and more than 400% since early last year; according to reports that's likely to stay elevated through the peak shipping season.
Rail disruptions continue across the US—and in Canada, resulting from early July wildfires in British Columbia. The bottleneck is expected to continue for some time.
Our Actions
TricorBraun continues to work diligently to secure freight space for your products and negotiate with our long-term transportation partners. As one of the top global importers, we are leveraging every relationship we have.
We're working to identify additional ocean freight capacity, including building relationships with new freight forwarders and negotiating directly with ocean carriers.
Our team remains in daily communications with customers to coordinate your sourcing, shipping, and production.
Learn More

The Big Picture
Pallets continue to be in hot demand, causing soaring prices with manufacturers forced to pass on increases. High demand for caps and liners continue; TricorBraun expect supplies to remain tight through 2021.
Details
The price of wooden pallets continues to escalate, more than doubling in price compared to last year due to rising lumber costs and a significant increase in ecommerce.
Liner lead times continue to be extended due to demand and labor shortages.
Many suppliers are still struggling to maintain appropriate staffing levels to match the demands; possible to see extended lead times in manufacturing due to staffing shortages through balance of the year.
Closure manufacturers have made tooling investments to support new demands in several key markets, but labor and liner shortages continue to extend lead times.
Our Actions
Our team is in daily contact with our supplier partners to review the status of their orders and help ensure continuity of supply. This includes locating excess cap and liner supplies that can be shifted to other suppliers to meet demand and helping vendors identify international sourcing options.
TricorBraun's warehousing capacity allows us to stock and offer our customers alternative supply options, including trigger sprayers, dispensing pumps, and other closures.
In the US, we're monitoring inflationary pressures, along with consumer trends and behaviors to forecast shifts in demand and potential impacts on supply.
Learn More

The Big Picture
Resin prices remain high with the possibility of some relief later in the year.
Details
Weather forecasters are predicting an above normal hurricane season which could impact resin supply and resin cost further this summer and fall season.
For now, if demands soften and weather remains in our favor, resin pricing appears to stay the same or slightly decrease.
New EU and UK taxes on products made with virgin resin continue to drive up PCR demand, stretching capacity and creating pressures on prices.
Recycled materials pricing is still on the rise, including OCC (old corrugated container), post-consumer PET, PP bales, and baled aluminum cans.
Our Actions
Our team is leveraging our vast supply network—in the US and around the world to qualify alternative resin sources. We're also exploring alternative materials, including bio-resins. We'll continue to keep you informed of what's happening with inflation and availability so you can plan ahead.
Learn More

The Big Picture
Companies continue to contend with rising inflation, and while some businesses are forced to pass on higher labor, ingredients and shipping costs to consumers, others are looking for new solutions.
Details
Some CPG companies are making changes to their packaging as one way to balance higher expenses without raising prices. This includes changing pack sizes and identifying other alternatives.
Our Actions
If you'd like to explore this strategy, TricorBraun can help.
TB has refillable packaging solutions to help reduce overall input cost, reduce total cost of ownership, and support a sustainable strategy.
Our team can also help you explore lightweighting options, reducing the weight of your packaging to lower costs and produce a more sustainable solution.
As more companies pursue pack size changes, more stock packaging sizes may be available. We can help you understand your options.
Additionally, we can help you explore custom options that differentiate your packaging while helping to balance rising costs.
Learn More

Our team is working day and night to help you manage today's uncertainty, and we'll continue to harness our expansive resources and industry-leading capabilities to serve you. As your global packaging partner, we will continue to leverage our:
Unmatched purchasing power, access, and scale, including a vast supply network of more than 1,000 domestic and international suppliers
Financial strength to make investments that support supply
Strong relationships with strategic suppliers to increase capacity
Stable shipping connections, to move supply even in tough times like these
Team of sourcing experts, on the ground throughout the world, seeking new product options and negotiating supply for your benefit
Dedicated in-house quality professionals, preventing issues and assuring standards
Expert supply and demand forecasting to help you plan ahead, and strengthen continuity of your supply
For more, contact your TricorBraun packaging consultant or marketing@tricorbraun.com.
Get In Touch
TricorBraun's proven process will guide your packaging decisions from napkin sketch all the way to the retail shelf. Click below to get started.