10 Key Trends Impacting Your Ecommerce Packaging Strategy
Date: January 26, 2018
For immediate release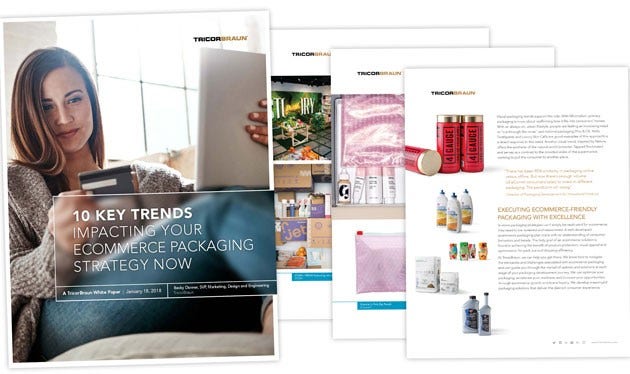 Oak Brook, Ill., January 29, 2018 – Rigid packaging leader TricorBraun today released a new report detailing the top consumer and retail trends consumer packaged goods (CPG) brand owners need to know when developing an ecommerce packaging strategy.
In the white paper, "10 Key Trends Impacting Your Ecommerce Packaging Strategy Now," TricorBraun offers insights on important consumer and retail trends influencing ecommerce packaging strategies:
Consumers live in an omnichannel world with micro-moments transforming the way we shop.

Consumers lead nomadic lives.

Consumers are increasingly turning to subscription services for CPG purchases.

With smart home assistants, the future of retail has arrived.

Consumers' desire for availability and speed pave the way for self-service innovations.

Unboxing: Product delivery turned social occasion.

Consumers search for peace.

Made for me.

Concept stores elevate the retail experience.

Packaging with visual appeal is valuable.
"Many CPG teams tell us they are simply repurposing shelf packaging for ecommerce channels with little change, and that's a huge risk," said Becky Donner, senior vice president of marketing, design and engineering at TricorBraun and the white paper author. "Developing an ecommerce packaging strategy starts with understanding the consumer trends and retail shifts that influence the consumer experience so your packaging not only connects with consumers but outperforms their expectations. A positive consumer experience leads to repeat purchases and ultimately, brand loyalty."
Download a complimentary copy of TricorBraun's white paper, "10 Key Trends Impacting Your Ecommerce Packaging Strategy Now".
About TricorBraun Design & Engineering Group

TricorBraun Design & Engineering Group is a business unit of TricorBraun, one of North America's leading providers of rigid packaging. Our team's primary mission is to design, engineer and manage the development, production and commercialization of custom packaging solutions for personal care, cosmetics, healthcare, food and beverage, industrial household chemical and animal health products. It is supported by TricorBraun's more than 40 offices globally, holding one of the largest inventories of rigid packaging components worldwide.
For more information about TricorBraun Design & Engineering Group, contact us at marketing@tricorbraun.com or 800-325-7782.

Get In Touch
TricorBraun's proven process will guide your packaging decisions from napkin sketch all the way to the retail shelf. Click below to get started.