TricorBraun Names New President And CEO; Keith Strope To Become Executive Chairman
Date: October 23, 2017
Contact:
Suzanne Fenton, Vice President, Brand Marketing
marketing@tricorbraun.com | 314-983-2010
For immediate release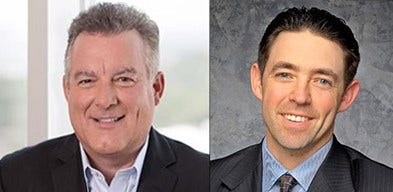 St. Louis, Missouri (October 20, 2017) — TricorBraun, a global packaging solutions leader, is pleased to announce that Court Carruthers will become the company's President and CEO effective October 30, 2017. He succeeds the company's long-serving President and CEO, Keith Strope, who will become Executive Chairman.
Strope noted the move is part of a long-term succession plan. "To accommodate our aggressive growth strategy, we need to continue building strong leadership into the future. I have enjoyed working with Court as a member of our board and am excited about working closely with him as CEO. I look forward to focusing my time on our longer-term growth efforts as Executive Chairman."
Carruthers has worked with AEA Investors over the last two years and has served on TricorBraun's board of directors since AEA's purchase of the company. He previously spent 13 years with W.W. Grainger Inc., serving in various global leadership roles, most recently as Group President, Americas. In this role, he was responsible for the company's $9 billion business across North and South America, including 15,000 team members in more than 500 locations, as well as eCommerce and technology innovation for the company. In addition, Carruthers brings considerable public and private board experience, including US Foods, Ryerson Holding Corp, and Follett Corporation.
Strope has served TricorBraun for 36 years. He was appointed COO in 1997 and CEO in 2002. Under his leadership, the company has grown more than five-fold and has tremendously enhanced its capabilities by globalizing its supply chain, expanding its solutions offering and augmenting its design expertise. He will continue in an active role as Executive Chairman with a focus on mergers and acquisitions, strategy, and further expanding industry and customer relationships.
"Keith's long-standing leadership and success at the company is impressive," said Tom Pryma, Partner at AEA Investors LP, TricorBraun's majority shareholder. "He has been our friend and business partner for over a decade and we look forward to many more years working together to continue expanding TricorBraun. His new role will take full advantage of his vast experience and knowledge, while ensuring a successful transition for Court."
Pryma continued: "For someone of Court's caliber to join TricorBraun is a testament to the strength and potential of the company. He has an exceptional track record of success in distribution businesses around the world by driving profitable growth, accelerating digital initiatives, and building high-performing teams. We are excited to support him and the team in executing our shared vision for the future, which includes ambitious plans for organic and acquisition-based growth."
"This is a great time to be joining TricorBraun and I am honored to lead the company into its next stage of growth," said Carruthers. "My main focus is helping our team deliver increased innovation, value, and efficiency for our customers and supplier partners, along with growth for our team members and shareholders. I am excited to get started."
About TricorBraun
TricorBraun (www.tricorbraun.com) is a packaging solutions company, focused on providing innovative, custom solutions for its many customers. An industry leader in glass and plastic containers, closures, dispensers and tubes, TricorBraun operates from more than 40 locations throughout North America and internationally from London, England: Guangzhou, China; Hong Kong, and Mumbai, India. Our award-winning Design & Engineering Center provides forward-thinking service driven by consumer insight, market understanding and creative solutions. TricorBraun's advisory services range from preliminary planning and manufacturing oversight to warehousing and logistics programs.
Get In Touch
TricorBraun's proven process will guide your packaging decisions from napkin sketch all the way to the retail shelf. Click below to get started.