How Brand Owners Can Win The Race To E-Commerce-Friendly Packaging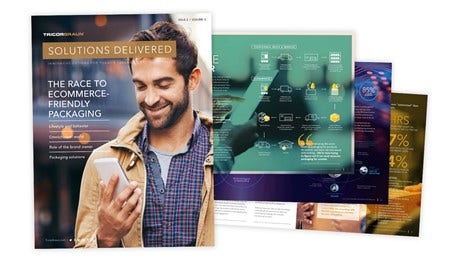 Oak Brook, Ill. – Rigid packaging leader TricorBraun today released a new digital magazine addressing the e-commerce challenges and considerations faced by consumer packaged goods (CPG) brand owners, and how they can increase opportunities for growth with the right packaging strategies and solutions.
Consumers' desire for what they want and when they want it, their ever-increasing connected behavior and multi-tasking nature are just a few of the factors contributing to the evolution of retail from brick and mortar to e-commerce. In fact, online CPG sales are exploding at a rate of more than 50% year over year.¹
In the complimentary digital magazine, "The Race to E-Commerce-Friendly Packaging" TricorBraun outlines:
The consumer behavior, lifestyle trends and needs that are pushing the evolution of retail
The transformation of retail as an omnichannel experience
The role of the brand owner and packaging implications
Packaging solutions that protect, offer visual appeal and are optimized for pack out and shipping
"We are deep in a retail paradigm shift," said Becky Donner, senior vice president of design and engineering at TricorBraun. "For CPG brand owners, that means your in-store packaging strategy needs to be re-examined for e-commerce. We find that brand owners don't always know how to design and develop packaging for e-commerce. They may not have an e-commerce strategy, know the packaging options available, or understand the ins and outs of the technologies that can help them deliver. Evolving your packaging to survive the increased number of e-commerce supply chain touchpoints, and ensuring you do so in a way that delights the consumer, drives brand growth and builds loyalty is our goal."
About TricorBraun Design & Engineering Group

TricorBraun Design & Engineering Group is a business unit of TricorBraun, one of North America's leading providers of rigid packaging. Our team's primary mission is to design, engineer and manage the development, production and commercialization of custom packaging solutions for personal care, cosmetics, healthcare, food and beverage, industrial household chemical and animal health products. It is supported by TricorBraun's more than 40 offices globally, holding one of the largest inventories of rigid packaging components worldwide.
For more information about TricorBraun Design & Engineering Group, contact us at marketing@tricorbraun.com or 800-325-7782.

Get In Touch
TricorBraun's proven process will guide your packaging decisions from napkin sketch all the way to the retail shelf. Click below to get started.