The TricorBraun Pulse - August 2021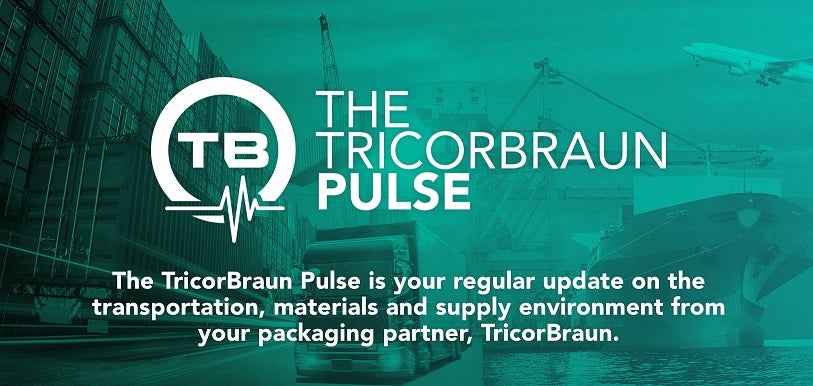 A Message from our Chief Commercial Officer and Chief Operations Officer

The global supply chain continues to present challenges. We're seeing disruptions and delays along with spot shortages, exacerbated by the threat of new interruptions as COVID infections surge and we enter the hurricane and typhoon seasons. US freight capacity is stretched thin as a result of labor shortages and strong consumer demand. Meanwhile, US inflation hit a 13-year high last month, driving companies to look for creative solutions.
Our entire TricorBraun team understands how demanding these challenges are to your business and we are committed to helping you navigate these difficult times. Please contact us to see how we can further support you. We appreciate and value your business—and we're here to help.
Sincerely,


The Big Picture
COVID infections continue to disrupt global transportation, including closures and delays at key ports across China. Severe weather has only exacerbated uncertainty. For example, earlier this month a typhoon temporarily shut down Shanghai's Yangshan mega-terminal and forced the evacuation of ships from nearby ports. In the US, shipping backlogs at West Coast ports are rivaling the height of the pandemic. Rail disruptions and truck shortages are adding to the problem, resulting in sky-high domestic shipping rates.
Details
A single case of COVID-19 shut down port operations in the Meishan terminal (Ningbo, China). As of late August, the overall port was operating at 90% capacity. A full reopening is planned for September 1.
The US shipping capacity backlog has shifted from Oakland back to the Ports of Los Angeles and Long Beach, where 40 container ships are awaiting berth. This ties the pandemic record high set in February.
The US continues to struggle with a massive shortage of truck drivers, exacerbated by pandemic-related layoffs. More than 15% of the pre-COVID workforce has not returned to the job.
US rail networks remain congested at intermodal terminals as consumer demand continues to exceed forecasted expectations. The capacity crunch is further impacted by chassis and drive availability and a shortage of labor to support unloading at distribution centers. This also affects the railroads' ability to move containers in and out of terminals in a timely fashion.
Truckload shipping rates have continued to increase and are currently 35-50% higher year-over-year across the US.
Our Actions
TricorBraun is exploring alternative ports to ensure our products continue to flow uninterrupted.
We continue to partner with reliable freight partners, and our rigid selection process has yielded some of the lowest tender rejection rates in the industry.
We're helping keep overall shipping rates down by aggregating demand, thus reducing rate increases that would otherwise be passed along to our customers.
Learn More
Chinese Typhoons Pose Latest Supply Chain Threat:
https://www.bloomberg.com/news/articles/2021-08-04/china-typhoons-create-latest-supply-chain-threat-as-ports-shut
China's Zero COVID Policy Shut Down a Whole Shipping Terminal After Just One Case:
https://www.cnbc.com/2021/08/13/chinas-zero-covid-strategy-to-disrupt-shipping-as-ningbo-zhoushan-port-shuts-.html
More Ominous Signs for Supply Chains from New COVID Lockdowns:
https://theloadstar.com/ominous-signs-for-supply-chains-from-new-covid-lockdowns-in-vietnam-and-china/
Congestion Takes Hold Again with Supply Chain Delays Spread Across the US:
https://theloadstar.com/congestion-takes-hold-again-with-supply-chain-delays-spread-across-the-us/
The Shipping Crisis is Getting Worse:
https://www.cnn.com/2021/08/23/business/global-supply-chains-christmas-shipping/index.html

The Big Picture
The supply environment continues to offer challenges from a combination of material and labor shortages. Robust domestic PET capacity offers an opportunity to switch from glass to plastic to avoid tight domestic supplies and international freight costs and delays. High demand for liners and large diameter closures continues. Meanwhile, manufacturing capacity is slowly improving as companies offer higher wages and incentives to attract workers.
Details
Expect lead times for liners to remain extended as a result of industry high demand and labor shortages. New capacity coming online should begin to improve supply, but not before the end of the year.
Large diameter closures remain in high demand and lead times are long. We are, however, starting to see more availability of small size closures.
There is currently a robust supply of domestic PET bottles.
New HDPE rigid packaging capacity is coming on the market as machines purchased last year begin to come online.
Glass supplies remain tight due to a combination of international freight issues and limited capacity across North America and Latin America.
While domestic suppliers are still struggling with labor shortages, many have increased wages and offered incentives to attract workers. To improve long-term operational continuity, many manufacturers across North America are investing in automation.
Our Actions
TricorBraun is leveraging our vendor relationships to assist customers looking to shift their packaging from China to North American supplies. As capacity opens up across North America, we're finding alternative channels to help customers reduce lead times and avoid international freight costs.
We are leveraging our extensive knowledge of liners to identify alternatives and provide samples for qualification when needed. In many cases, these alternatives are equivalent to your current liners. We've also occasionally purchased unlined closures and had them lined in small quantities to help customers meet their needs.
We're helping customers interested in switching their packaging from glass to plastic as a result of robust PET supplies. Ask us if you're interested in exploring PET as an alternative to glass.
Learn More
Why You Can't Find Everything You Want in Grocery Stores:
https://www.wsj.com/articles/why-you-cant-find-everything-you-want-at-grocery-stores-11629633601

The Big Picture
Virgin resin markets remain tight. Prices for post-consumer resin are extremely high, due in part to worker and driver shortages at material recovery facilities. New laws in Oregon and Maine will shift some recycling costs onto brand owners.
Details
The markets for virgin PE, PP, and PET resin remain tight, and PP and PET prices were up slightly in August. HDPE prices held flat. Analysts expect prices to decrease soon, but one hurricane hitting the Gulf Coast could impact this forecast.
HDPE natural post-consumer resin supply is lagging behind demand. Worker and driver shortages at material recovery facilities are hampering recycling efforts.
Curbside recycled material prices are on the rise. PET beverage bottles and jars are up 7% over last month; HDPE prices, at 108.19 cents per pound, are at historical highs.
Oregon's governor this month signed the Extended Producer Responsibility (EPR) bill. A similar law was enacted in Maine last month. Under the Oregon law, brand owners selling packaging, paper products, and food service ware will pay fees to the state to update and expand recycling programs.
Our Actions
Our team is leveraging our vast supply network—in the US and around the world—to qualify alternative resin sources. We're also exploring alternative materials, including bio-resins. We'll continue to keep you informed of what's happening with inflation and availability so you can plan ahead.
We're examining the details of the Oregon and Maine laws and pending legislation in other statehouses. Stay tuned as we learn more information regarding the impact on our customers and suppliers.
Learn More
Recycling Industry Confronts Tough Labor Markets:
https://resource-recycling.com/recycling/2021/08/17/recycling-industry-confronts-tough-labor-markets/
Curbside Paper and Plastic Prices Increase Notably:
https://resource-recycling.com/recycling/2021/08/17/curbside-paper-and-plastic-prices-increase-notably/

Oregon Joins Maine and Passes EPR Legislation:
https://www.waste360.com/legislation-regulation/oregon-joins-maine-and-passes-epr-legislation
Maine Becomes First State to Shift Costs of Recycling from Taxpayers to Companies:
https://www.washingtonpost.com/climate-environment/maine-becomes-first-state-to-shift-costs-of-recycling-from-taxpayers-to-companies/2021/07/13/aa6fbe44-e416-11eb-8aa5-5662858b696e_story.html

The Big Picture
From groceries to gasoline, higher prices are all around us. Inflation in the US rose 5.4% in July compared to a year earlier and now stands at a 13-year high. It's gotten more and more expensive to procure and produce products, and CPG brands are struggling to maintain current price points. While some businesses have chosen to pass on higher labor, ingredients, and shipping costs to consumers, others are getting creative in exploring all available options.
Details
Some CPG companies are making changes to their packaging as one way to balance higher expenses without raising prices. This includes changing pack sizes, optimizing designs for ecommerce to reduce shipping costs, and identifying alternative formats, such as flexible.
Our Actions
If you'd like to explore this strategy, TricorBraun can help.
TricorBraun's many flexible offerings can help to reduce overall input costs, reduce total cost of ownership, and support our customers' sustainable goals.
We can help you explore custom options that differentiate your packaging while helping to balance rising costs. For example, our Design and Engineering team can work with you to identify lightweighting options, reducing the weight of your packaging to lower costs and produce a more sustainable solution. Our team has also worked with customers to develop refillable options.
As more companies pursue pack size changes, more stock packaging sizes may be available. We can help you understand how your options may have expanded.

Our team is working day and night to help you manage today's uncertainty, and we'll continue to harness our expansive resources and industry-leading capabilities to serve you. As your global packaging partner, we will continue to leverage our:
Unmatched purchasing power, access, and scale, including a vast supply network of more than 1,000 domestic and international suppliers
Financial strength to make investments that support supply
Strong relationships with strategic suppliers to increase capacity
Stable shipping connections, to move supply even in tough times like these
Team of sourcing experts, on the ground throughout the world, seeking new product options and negotiating supply for your benefit
Dedicated in-house quality professionals, preventing issues and assuring standards
Expert supply and demand forecasting to help you plan ahead, and strengthen continuity of your supply
For more, contact your TricorBraun packaging consultant or marketing@tricorbraun.com.
Get In Touch
TricorBraun's proven process will guide your packaging decisions from napkin sketch all the way to the retail shelf. Click below to get started.