The TricorBraun Pulse - January/February 2022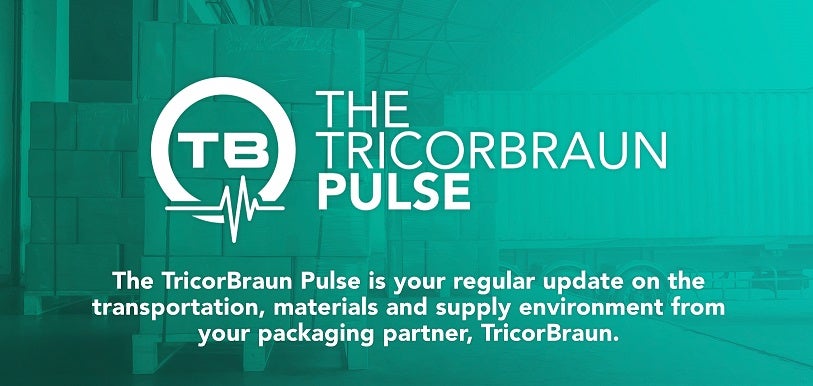 A Message from our Chief Commercial Officer and Chief Operations Officer

2022 is looking a lot like 2021, the Sequel. Supply chain disruptions, soaring prices, labor shortages, and a rampant pandemic are forecast to continue to create challenges for CPG companies in the coming months. China's "COVID zero" policy means a single infection can shut down a factory, a port, and even a city. As of mid-January, 3 Chinese cities and 20 million people had been locked down. Plus expect further manufacturing disruptions as China prepares to cut pollution ahead of the Winter Olympics—and fresh worries about global inflation.
Our entire TricorBraun team understands how demanding these challenges continue to be for your business, and we are committed to helping you navigate throughout 2022. Please contact us to see how we can further support you with what other options are available. We appreciate and value your business—and we're here to help.
Sincerely,

The Big Picture
Shipping rates will remain high and COVID will continue to create uncertainty. That's the big picture as we move into 2022—with annual shipping contract rates up sharply and the Delta and Omicron variants impacting ocean carriers and port operations. Meanwhile, new US and Canadian cross-border vaccine requirements for truckers are certain to exacerbate existing labor shortages. Looking ahead, the International Longshore and Warehouse Union (ILWU) contract expires on July 1; fresh disruptions at West Coast ports could result if negotiations on a new agreement break down.
Details
Asia-US shipments continue to move at spot or premium rates. Contract rates are being honored for a minimal number of shipments in these lanes for 40-foot equivalent unit (FEU) to the US & Canadian West Coast and all other destination ports.
An estimated 20% of port operators globally are out of work due to COVID-related symptoms or illness. As of mid-January, approximately 800 (10%) of the 8,000 dockworkers at the Ports of Los Angeles and Long Beach were out sick—adding further slowdowns for the 100+ ships waiting offshore to unload.
New US and Canadian vaccine requirements for truckers crossing the US-Canada border mean that only vaccinated truckers can move freight between the two countries. The Canadian Trucking Alliance estimates that about 38,000 truckers (or 24% of the current total) could drop out of cross-border trucking because of the mandates. We have not seen any issues yet—but we are closely monitoring the situation.
Legislation passed by the US House of Representatives aims to help alleviate fees that ocean carriers and marine terminals have been tacking onto shipments. Specifically, it would prohibit charging companies for failing to pick up cargo that they can't in fact access—a chronic problem during the pandemic. The Ocean Shipping Reform Act still needs Senate approval to become law.
Our Actions
We are exploring alternative ports and adding new partners as needed to improve transportation rates and maintain high levels of performance. On some occasions, we have shipped to an alternative port and trucked the container a longer distance to keep our customers supplied.
We're helping keep overall shipping rates down by negotiating in-country and aggregating demand, thus reducing rate increases that would otherwise be passed along to our customers.
We're reviewing our mix of full truckload and less-than-truckload partners and adding new partners as warranted to minimize the impact of rate increases in 2022.
Learn More
The Inflation Fighting Bill You Don't Know About:
https://prospect.org/economy/inflation-fighting-bill-you-dont-know-about/
Container Shipping's 2022 Outlook - The Bulls, Bears, and Wild Cards:
https://www.freightwaves.com/news/container-shippings-2022-outlook-the-bulls-bears-and-wild-cards

The Big Picture
The supply of closures and liners has been severely challenged—with the supply of foil liners forecast to continue to be a challenge in 2022. We're recommending that customers adopt a proactive approach to qualify alternative solutions, including shifting to a non-foil liner if possible, qualifying Universal Heat Seal Liners, and considering liner-less closure solutions.
Details
Liners supplies continue to be strained, driven by a growing aluminum shortage along with COVID-related and other labor challenges. Learn more, including what alternative options exist and how you can improve closure and liner supply continuity.
Supplies of PP remain stable, and PE supplies are improving. PP capacity is expected to increase by 10% in 2022; PE capacity by up to 20%. New HDPE capacity is also coming online.
Suppliers are starting to see tightening supplies of food-grade PCR HDPE. Overall PCR supplies are expected to remain tight throughout 2022 as brands try to fulfill their commitments to use more PCR in their packaging.
Domestic suppliers are struggling with labor shortages across the supply chain as the highly contagious Omicron variant infects factory workers, truckers, and retailers across the US.
Our Actions
We've identified alternative liners and provided samples for qualification when needed. We're also exploring alternatives to liners, including crab claws, plug seals, tamper-evident closures, tamper-evident and child-resistant closures, and custom solutions.
We're leveraging our extensive warehousing capability to help ensure supply availability for our customers. Ask about how a warehousing agreement could help you alleviate supply disruptions.
We're found domestic vendors for customers looking to shift their packaging to North America to reduce lead times and avoid international freight costs.
We're bringing new glass suppliers on board to try to combat supply challenges.
We're helping customers interested in switching their packaging from glass to plastic. Ask us if you're interested in exploring Hot-fill PET as an alternative to glass.
Learn More
The Global Supply Chain is Amazingly Efficient. Why Did It Break Down?
https://www.npr.org/2022/01/05/1070514847/the-global-supply-chain-arriving-today-christopher-mims
China's Goal for Blue Sky Beijing Winter Olympics Set to Cause "Supply-Side Shock" as Factories Close:
https://www.scmp.com/economy/china-economy/article/3159643/chinas-goal-blue-sky-beijing-winter-olympics-set-cause-supply
Grocery Store Shortages are Back. Here are Some of the Reasons Why:
https://www.npr.org/2022/01/12/1072462477/grocery-shortage-shelves-reasons

The Big Picture
Prices for most virgin resins dropped in December, with PP pricing forecast to continue to decrease into 2022. New North American PE and PP capacity is expected to come online this year.
Details
PP, PE, HDPE, and LDPE prices dropped to end 2021—and are expected to remain lower this year as new capacity comes online.
PET prices are expected to remain high in North America and Europe due to tight supplies.
Fueled by high demand, post-consumer resin prices remain high. PCR PP and HDPE prices decreased slightly in late 2021, but they remain significantly higher than a year ago. Current PET PCR prices are also likely to remain high due to high demand and no new capacity coming online in 2022.
Supplies of bio-resins remain tight as demand for alternative materials increases.
Pricing for corrugate containers is down 11% from late 2021—but prices are still more than 2x what they were a year ago.
Our Actions
We're assessing the availability, lead times, and scalability of bio-resins, and we're actively testing products to understand performance in various packaging formats. We're also identifying manufacturers who will run these new resins in their operations.
We are working with key PCR suppliers to secure resin for our customers. Talk to us about how we can help you secure your supply.
Learn More
PP, PE Prices Take a Fall in December:
https://www.plasticsnews.com/news/polypropylene-polyethylene-prices-fall-december


Our team is working day and night to help you manage today's uncertainty, and we'll continue to harness our expansive resources and industry-leading capabilities to serve you. As your global packaging partner, we will continue to leverage our:
Unmatched purchasing power, access, and scale, including a vast supply network of more than 1,000 domestic and international suppliers
Financial strength to make investments that support supply
Strong relationships with strategic suppliers to increase capacity
Stable shipping connections, to move supply even in tough times like these
Team of sourcing experts, on the ground throughout the world, seeking new product options and negotiating supply for your benefit
Dedicated in-house quality professionals, preventing issues and assuring standards
Expert supply and demand forecasting to help you plan ahead, and strengthen continuity of your supply
For more, contact your TricorBraun packaging consultant or marketing@tricorbraun.com.
Get In Touch
TricorBraun's proven process will guide your packaging decisions from napkin sketch all the way to the retail shelf. Click below to get started.