The TricorBraun Pulse - June 2021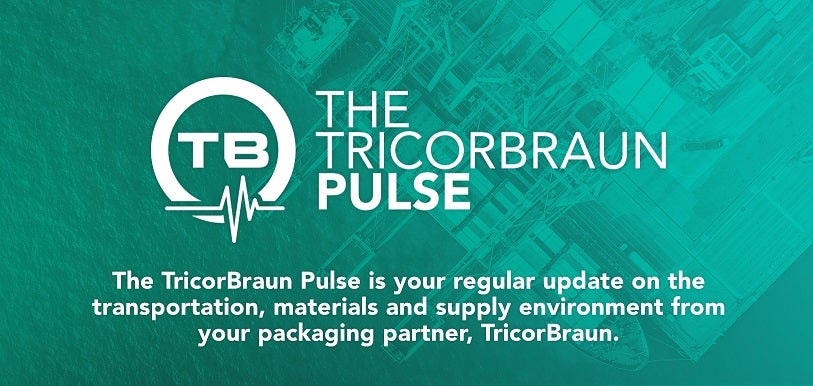 A Message from our Chief Commercial Officer and Chief Operations Officer

Global supply chain disruptions continue to cause challenges. The short-term forecast is for more of the same: continued high demand, supply challenges, labor shortages, shipping delays, and commodity cost increases. We will be in this pattern for a while. TricorBraun is here to keep you informed and work with you, one-on-one, to navigate through these difficult times.
Read our June issue for more, and please contact us if our team can further support you. We value your business and we want to help.
Sincerely,


The Big Picture
Demand continues to outpace supply in the US and around the world. TricorBraun expects continued shipping congestion and elevated shipping rates through at least the end of the year. A 5-day shutdown at the Port of Yantian, China, in early June followed by limited operational capacity has created additional shipping bottlenecks.
Details
Continued international shipping delays are the result of sustained strong US demand, ongoing impacts from a global container shortage, reduced shipping capacity, congestion at key US ports due to high volume and lower labor availability, and the strong growth in Chinese exports.
A rise in COVID cases at Chinese ports, including the Port of Yantian, is further constraining ocean freight operations.
Port congestion has shifted to Oakland, with close to 2 dozen ships in a holding pattern, as ocean carriers bypass Los Angeles and Long Beach.
Increased demand for domestic freight continues to drive up transportation costs. Truck driver availability is 15% below demand, shifting freight to heavily congested rail lines.
Rail lead times are up to 2–3 weeks.
The overall cost of shipping a container from Asia to its US destination is 4x higher than it was just 6 months ago—and we don't see any price relief in the near term.
Our Actions
TricorBraun is continuing to work diligently to secure freight space for your products and negotiating with our long-term transportation partners. As one of the top global importers, we are leveraging every relationship we have.
We're working to identify additional ocean freight capacity, including building relationships with new freight forwarders and negotiating directly with ocean carriers.
Our team remains in near-daily communications with customers to coordinate your sourcing, shipping, and production.
Learn More

The Big Picture
Suppliers are struggling with labor shortages, resulting in production delays and capacity constraints. Industry demand for caps and liners remains at all-time highs, and TricorBraun expects supplies to remain tight throughout 2021. Our team continues to work with our suppliers to create additional capacity. While supplies are tight, TricorBraun has a variety of in-stock hot products available now.
Details
Domestic liner production is severely taxed as demand greatly outweighs the available US supply.
High demand for cap production is leading to very tight supplies.
Plan for long lead times for closures due to robust demand and ongoing shortages of both labor and materials.
Our Actions
Our team is in daily contact with our supplier partners to review the status of their orders and help ensure continuity of supply. This includes locating excess cap and liner supplies that can be shifted to other suppliers to meet demand and helping vendors identify international sourcing options.
TricorBraun's warehousing capacity allows us to stock and offer our customers alternative supply options, including trigger sprayers, dispensing pumps, and other closures.
As the US moves into a post-pandemic economy, we're monitoring inflationary pressures along with consumer trends and behaviors to forecast shifts in demand and potential impacts on supply.
Learn More

The Big Picture
High demand for resin means price inflation. Resin prices remain elevated compared to last year, including for polyethylene and post-consumer resins (PCR). Supply constraints remain a factor, especially for high density polyethylene and polypropylene. Hurricane season could further impact US supplies. Likewise, inflation is also impacting corrugated, wood pallets, steel, tinplate, and other commodities.
Details
Demand for polyethylene (PE) continues to be high, creating price pressure.
Polypropylene (PP) prices went back up in May after dropping in April. We're forecasting further increases throughout the year.
New EU and UK taxes on products made with virgin resin are driving up PCR demand, stretching capacity and creating pressures on prices.
Shortages of corrugate and pallets are driving up prices of shipping materials, driven in large part by the massive growth in ecommerce over the last year.
Our Actions
Our team is leveraging our vast supply network to qualify alternative resin sources. We're also exploring alternative materials, including bio-resins. We'll continue to keep you informed of what's happening with inflation and availability so you can plan ahead.
Learn More

Our team is working day and night to help you manage today's uncertainty, and we'll continue to harness our expansive resources and industry-leading capabilities to serve you. As your global packaging partner, we will continue to leverage our:
Unmatched purchasing power, access, and scale, including a vast supply network of more than 1,000 domestic and international suppliers
Financial strength to make investments that support supply
Strong relationships with strategic suppliers to increase capacity
Stable shipping connections, to move supply even in tough times like these
Team of sourcing experts, on the ground throughout the world, seeking new product options and negotiating supply for your benefit
Dedicated in-house quality professionals, preventing issues and assuring standards
Expert supply and demand forecasting to help you plan ahead, and strengthen continuity of your supply
For more, contact your TricorBraun packaging consultant or marketing@tricorbraun.com.
Get In Touch
TricorBraun's proven process will guide your packaging decisions from napkin sketch all the way to the retail shelf. Click below to get started.