The TricorBraun Pulse - March/April 2022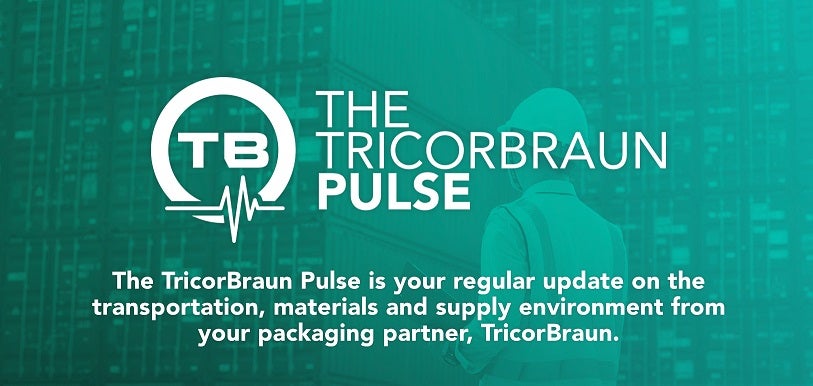 A Message from our Chief Commercial Officer and Chief Operations Officer

The dominant theme heading into Spring is uncertainty. Russia's invasion of Ukraine has sent shockwaves through the global economic system and oil prices soaring. Moreover, the de facto shuttering of two global markets has immediate implications for shipping within Europe—and impacts critical commodities, including wheat, aluminum, and glass. All of this creates new challenges for CPG companies on top of existing supply chain disruptions, lingering COVID uncertainty, and labor shortages. Add to this, inflation is at a 40-year high.
Our entire TricorBraun team understands how demanding these challenges continue to be for your business, and we are committed to helping you navigate through the uncertainty. Please contact us to see how we can further support you with what other options are available. We appreciate and value your business—and we're here to help.
Sincerely,


The Big Picture
The Russian invasion of Ukraine is having an impact on shipping, especially within Europe. Northern European ports, including Rotterdam, Bremerhaven, and Hamburg, are experiencing congestion as many ocean carriers have suspended services to and from Russia via both the Baltic and Black Seas. Ocean Network Express (ONE) has also halted all bookings to Russian destinations, including St. Petersburg. Meanwhile, truck driver shortages across Europe are expected to worsen as more and more Ukrainian workers return home. In other news, US and Canadian truck carrier rates are sky-high, driven by rising fuel prices and a shortage of drivers. Plus rail work stoppages in Canada could be in the forecast as negotiations stall and the union has voted to authorize a strike.
Details
Available global shipping capacity is down 11%. Drewry Shipping Consultants reports that the average container was moved only 17.8 times in 2021 (down from 20.1 in 2018).
Congestion is down at the Ports of Los Angeles and Long Beach. There were 50 ships awaiting berth in early March, down from a record high 109 ships in early January.
Congestion continues to increase at US East Coast ports, especially Charleston. The Port of Charleston had 29 container ships at anchor in mid-March; the Ports of New York and New Jersey had 9 ships awaiting berth.
US and Canadian truck carrier rates continue their rise. Full truckload (TL) rates have increased 30-40% on intra-Canadian and cross-border shipments. US TL spot rates have increased 29% year-over-year; fuel prices have increased 42%. Less-than-truckload (LTL) carriers are posting record profits. US companies are using rate increases to focus on driver retention, sign-on bonuses, and even profit-sharing to attract new drivers.
New US port disruptions could be coming soon. The International Longshore & Warehouse Union (ILWU) and Pacific Maritime Association (PMA) contract covering US West Coast ports expires July 1; negotiations for a new contract have not yet begun. The key issue for a new labor contract is container terminal automation; the ILWU claims it will reduce union employees and the PMA wants increased automation to improve terminal operations and flow of containers. Expect labor disruptions at US West Coast ports during late Q2. While rerouting vessels to other US ports is an option, there is a risk that the union managing East Coast ports will refuse to work those ships.
Our Actions
We're helping keep overall shipping rates down by negotiating in-country and aggregating demand, thus reducing rate increases that would otherwise be passed along to our customers.
TricorBraun has introduced two new brokers and one asset-based LTL carrier that all serve Canada to mitigate high carrier rates. We've also ensured that all our less-than-truckload agreements protect against egregious rate increases.
We're continuing to evaluate smaller truck carriers with lower operating expenses and rates due to size and regional coverage.
We're exploring options for frontloading inventory to arrive before the ILWU-PMA contract expires.
Learn More
Canada, US Shippers Brace for Possible CP Rail Strike:
https://www.reuters.com/business/canada-us-shippers-brace-possible-cp-rail-strike-latest-supply-chain-disruption-2022-03-15/
The Invasion of Ukraine is Causing Crisis at Sea:
https://foreignpolicy.com/2022/03/07/ukraine-shipping-supply-war/
Shipping Costs Rise, Transport Tightens as War Escalates in Ukraine:
https://www.industryweek.com/supply-chain/logistics/article/21234784/shipping-costs-rise-transport-tightens-as-war-escalates-in-ukraine

The Big Picture
The supply of closures with liners remains severely challenged. We're recommending that customers adopt a proactive approach to qualify alternative solutions, including shifting to a non-foil liner if possible, qualifying Universal Heat Seal Liners, and considering liner-less closure solutions.
Details
Liners supplies continue to be strained, driven by delays in international aluminum shipments.
PE supplies have improved, and HDPE and LDPE inventories remain strong.
PP supplies are tightening.
Suppliers are starting to see tightening supplies of food-grade PCR HDPE. Overall PCR supplies are expected to remain tight throughout 2022 and into 2023 as brands try to fulfill their commitments to use more PCR in their packaging and new legislation in various US states mandates PCR content.
Glass supplies are expected to tighten due to disruptions in Ukraine and Russia. Four glass plants in Ukraine have closed, and exports from Russia to the rest of Europe have stopped.
Lead times are improving across most of the US. The exception is the Midwest, where labor shortages continue to pose challenges.
Our Actions
We've identified alternative liners and provided samples for qualification when needed. In addition, we're leveraging our global suppliers to find alternative sourcing for closures. We're also exploring alternatives to liners, including crab claws, plug seals, tamper-evident closures, tamper-evident and child-resistant closures, and custom solutions.
We continue to expand our global relationships with glass manufacturers to find more supply. We have built over 40 stock tools to help with supply options.
We're leveraging our extensive warehousing capability to help ensure supply availability for our customers. Ask about how a warehousing agreement could help you alleviate supply disruptions.
We're found domestic vendors for customers looking to shift their packaging to North America to reduce lead times and avoid international freight costs.
We're helping customers interested in switching their packaging from glass to plastic. Ask us if you're interested in exploring Hot-fill PET as an alternative to glass.
Learn More
Russia Set to Ban Commodity Exports Following Western Sanctions:
https://www.wsj.com/articles/russia-set-to-ban-commodity-exports-following-western-sanctions-11646768260
Ukraine Conflict Adds to Supply Chain Snags:
https://www.reuters.com/markets/europe/ukraine-conflict-adds-european-supply-chain-snags-2022-03-09/
Ukrainian Invasion Adds to Chaos for Global Supply Chains:
https://www.nytimes.com/2022/03/01/business/economy/ukraine-russia-supply-chains.html

The Big Picture
Resin prices are a mixed bag, and uncertainty over rising oil prices will likely exacerbate price pressures in the short term. Aluminum prices are at near-record highs, adding pressure on PET supplies as CPG brands switch their packaging away from aluminum.
Details
PP and PET prices are up due to tight supplies and the impact of rising oil prices.
PE, HDPE, and LDPE prices are holding steady thanks to robust inventories—but the PE market could be impacted by the Ukraine-Russia crisis, logistic challenges, and rising oil prices.
Post-consumer resin prices are mixed. The price of PET PCR rose slightly last month; it is currently 63% higher than a year ago. PCR HDPE and PCR PP prices have dropped, although PCR PP is still 8% higher than a year ago.
Supplies of bio-resins remain tight as demand for alternative materials increases.
Aluminum prices are at near-record highs, exacerbated by new supply disruptions resulting from Russia's invasion of Ukraine.
Pricing for corrugate containers is up over 10% year-over-year, and lead times continue to be extended.
Our Actions
We're assessing the availability, lead times, and scalability of bio-resins, and we're actively testing products to understand performance in various packaging formats. We're also identifying manufacturers who will run these new resins in their operations.
We are working with key PCR suppliers to secure resin for our customers. Talk to us about how we can help you secure your supply.
Learn More
Aluminum Near Record High as Russia-Ukraine Conflict Threatens Supplies:
https://www.reuters.com/markets/europe/lme-aluminium-holds-firm-russian-supply-risks-2022-03-01/
Plastic Supply Pressures Create Market Challenges and Opportunities:
https://www.wastedive.com/news/plastic-supply-pressures-create-market-challenges-and-opportunities-for-rec/620081/


Our team is working day and night to help you manage today's uncertainty, and we'll continue to harness our expansive resources and industry-leading capabilities to serve you. As your global packaging partner, we will continue to leverage our:
Unmatched purchasing power, access, and scale, including a vast supply network of more than 1,000 domestic and international suppliers
Financial strength to make investments that support supply
Strong relationships with strategic suppliers to increase capacity
Stable shipping connections, to move supply even in tough times like these
Team of sourcing experts, on the ground throughout the world, seeking new product options and negotiating supply for your benefit
Dedicated in-house quality professionals, preventing issues and assuring standards
Expert supply and demand forecasting to help you plan ahead, and strengthen continuity of your supply
For more, contact your TricorBraun packaging consultant or marketing@tricorbraun.com.
Get In Touch
TricorBraun's proven process will guide your packaging decisions from napkin sketch all the way to the retail shelf. Click below to get started.