The TricorBraun Pulse - May 2021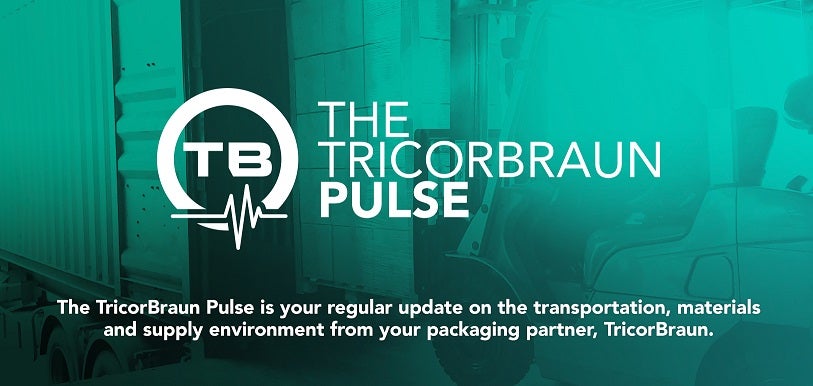 A Message from our Chief Commercial Officer and Chief Operations Officer

At TricorBraun, everything we do starts and ends with our customers. That includes helping you navigate the industry's formidable supply disruption challenges, and keeping you informed throughout the rapidly changing situation. We developed The TricorBraun Pulse as your go-to source for supply chain updates and information.
Read our first issue for more, and please contact us if there is more our team can do for you. We value your business and we want to help.
Sincerely,


The Big Picture
Demand continues to drastically outpace supply, in the US and around the world. TricorBraun expects continued shipping congestion, and as a result, elevated shipping rates, through the end of 2021. In the short-term, experts say May is the most challenging month to date for international shipping, resulting in delayed shipments and increased rates.
Details
Continued international shipping delays are the result of strong US economic demand, continued effects from the Suez Canal blockage, congestion at key US ports due to high volumes and lower labor availability, and strong growth in Chinese exports.
The peak holiday season for retail imports will start in August and is expected to drive high international shipping volumes for the remainder of the year.
Domestic Freight: Increased demand continues to drive rates higher. Based on our initial analysis, TricorBraun expects truckload rates to increase by 10-15%, during the second half of 2021. According to DAT Trendlines, trucks available to move product decreased by 17% from April 2020 to April 2021, while loads that need to be shipped have increased by 5x during the same time period. Additionally, spot rates have increased 58% during the same time period.
Our Actions
Our team is working diligently to secure freight space for your products, and negotiating with our transportation partners—while leveraging our scale and size―to minimize cost impact. We have strong and long-term relationships with ocean and truck freight partners, which provides us with a strong competitive advantage.
Learn More

The Big Picture
Industry demand for liners and caps is over capacity. Additionally, suppliers are struggling with labor shortages, resulting in additional production delays. However, TricorBraun and our suppliers are responding to the challenges with creative solutions in order to create additional capacity.
Details
Domestic liner production is over capacity. US liner suppliers are unable to keep up with market demand.
Increased nutraceutical and food purchases since the pandemic have stretched cap production capacity. This has caused serious scheduling challenges as US cap suppliers work to keep up with demand.
Our Actions
Our team is in daily contact with our supplier partners to review the status of your orders and help ensure continuity of your supply. This includes helping suppliers locate resin within our vast network when they run out, and making investments as needed to support supply.
We are working with our suppliers on creative ways to keep you in supply, including moving machines and tools to other suppliers when a supplier is challenged with labor constraints.
If you'd like to explore new packaging solutions, we have alternative supply options. We have been able to successfully secure alternative options for several customers.

The Big Picture
High demand for resin means pricing inflation; pricing remains elevated compared to last year. However, we see some price declines in polypropylene (PP). TricorBraun expects that PP prices will continue to decline in Q3 and Q4. Prices for polyethylene (PE) continue to rise.
Details
In May 2020, PP was 48 cents per lb. In March 2021, that jumped to $1.26 per lb. This was due to increased demand, as well as supply constraints in Texas due to Winter Storm Uri.
However, PP pricing has started to drop over the last two months; TricorBraun expects PP prices to continue to decline as PP production comes online in the second half of this year.
PE prices continues to rise; in May 2020 PE was 58 cents/lb.; it rose to 87 cents/lb. this month. We expect PE prices to decrease in the second half of 2021.
We are starting to see available capacity for PET as lead times decrease; we continue to watch PET prices closely.
Our Actions
Leveraging our massive supply network, we have successfully qualified alternative resin for customers. We will continue to keep you informed on what's happening with price inflation so you can plan ahead.

Our team is working day and night to help you manage today's uncertainty, and we'll continue to harness our expansive resources and industry-leading capabilities to serve you. As your global packaging partner, we will continue to leverage our:
Unmatched purchasing power, access, and scale, including a vast supply network of more than 1,000 domestic and international suppliers
Financial strength to make investments that support supply
Strong relationships with strategic suppliers to increase capacity
Stable shipping connections, to move supply even in tough times like these
Team of sourcing experts, on the ground throughout the world, seeking new product options and negotiating supply for your benefit
Dedicated in-house quality professionals, preventing issues and assuring standards
Expert supply and demand forecasting to help you plan ahead, and strengthen continuity of your supply
For more, contact your TricorBraun packaging consultant or marketing@tricorbraun.com.
Get In Touch
TricorBraun's proven process will guide your packaging decisions from napkin sketch all the way to the retail shelf. Click below to get started.