The TricorBraun Pulse - May/June 2022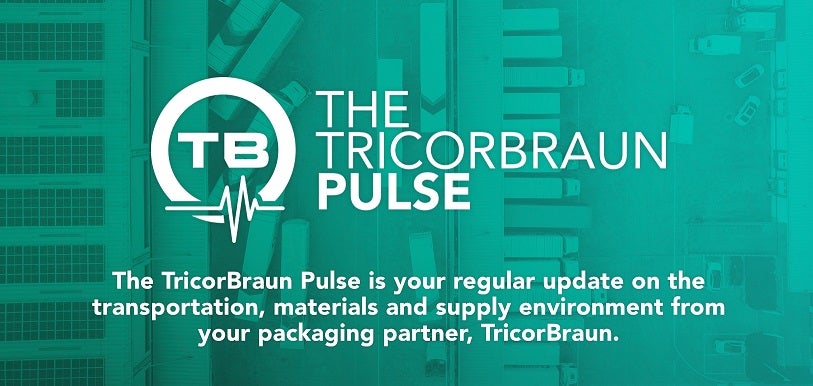 A Message from our Chief Commercial Officer and Chief Operations Officer

The ongoing war in Ukraine and the COVID lockdown in Shanghai have added two additional disruptions to an already challenging supply chain environment. Add in energy disruptions, logistics challenges, labor shortages, and historically high inflation rates, and you have a recipe for ongoing uncertainty in the US, Europe, and elsewhere in the world. Furthermore, the Biden administration is warning that a fall COVID outbreak could infect 1 million people in the US—potentially further impacting everything from domestic production to truck and freight capacity.
Our entire TricorBraun team understands how demanding these challenges continue to be for your business, and we are committed to helping you navigate through the uncertainty. From identifying alternative supply options to adding new freight partners to identifying alternative materials, we're continually making adjustments to ensure continuity of supply at the best value for you. Please contact us to see how we can further support you with what other options are available. We appreciate and value your business—and we're here to help.
Sincerely,


The Big Picture
China's COVID-related lockdown in Shanghai slowed port operations there for six weeks and led to a significant drop in shipments from Asia to the US. Temporary spot price reductions have been seen as a result of this drop in demand. Meanwhile, uncertainty over labor negotiations could mean disruptions this summer at West Coast ports. Also in the US, shortages of both trucks and drivers are hampering the movement of goods domestically. There is one bright spot: the US national average spot market rate for full truckload shipments has dropped for three consecutive months.
Details
Shanghai is slowly coming out of its COVID-related lockdown.Port operations are starting to pick up, and port workers and truckers are returning to the job to ship the backlog of containers waiting at the port.
The Big 3 Ocean Carrier Alliances have canceled about 35% of shipments from Asia to the US through May in response to the Shanghai COVID lockdown combined with congestion at US and Chinese ports.
It's not just driver shortages slowing the movement of goods. The US trucking industry is also hampered by a shortage of trucks, the result of a backlog of orders and a scarcity of parts, including semiconductors. Truck manufacturers have a production backlog through 2023 exceeding 250,000 trucks, about twice the normal level. As a result, manufacturers can't replace aging vehicles or expand operations—adding to supply chain woes.
While shipping demand in the US and Canada remains historically strong, shipper volumes dropped 27% from March to April—positively impacting the spot market rates for full truckload (FTL) shipments. The US national average spot market rate is still near an all-time high—but has dropped for a third consecutive month.
US West Coast port disruptions could be coming in Q2 if a new International Longshore & Warehouse Union (ILWU) and Pacific Maritime Association (PMA) contract is not reached by July 1. The two sides opened negotiations on May 10. The key issue for a new labor contract is container terminal automation; the ILWU claims it will reduce union employees and the PMA wants increased automation to improve terminal operations and the flow of containers. While rerouting vessels to other US ports is an option, there is a risk that the union managing East Coast ports will refuse to work those ships.
Our Actions
We're helping keep overall shipping rates down by evaluating new international shippers and looking for all alternative shipping and receiving port options. We're also moving production to manufacturers where lower shipping costs can bring opportunities for overall lower delivered costs.
TricorBraun has introduced two new brokers and one asset-based LTL carrier that all serve Canada to mitigate high carrier rates. We've also ensured that all our less-than-truckload agreements protect against egregious rate increases.
We're continuing to evaluate smaller truck carriers with lower operating expenses and rates due to size and regional coverage.
We're exploring options for frontloading inventory to arrive before the ILWU-PMA contract expires.
Learn More
Shipping Delays are Back as COVID Lockdowns Ripple Across the World:
https://www.cnn.com/2022/05/06/business/china-lockdowns-global-port-chaos-supply-chains-intl-hnk/index.html
Shanghai Lockdown Reignites Supply Chain Problems for US Companies:
https://www.wsj.com/articles/shanghai-lockdown-reignites-supply-chain-problems-for-u-s-companies-11651656601?page=1
Truckers Want More Trucks than Industry Can Build:
https://www.wsj.com/articles/truckers-want-more-trucks-than-industry-can-build-at-the-moment-11652094004

The Big Picture
Resin prices continue to be mixed, with rising energy prices adding a layer of uncertainty to the outlook across the board. Liner supplies for caps continue to be strained. Overall lead times are improving across the US, but continuing labor and logistics challenges will be a factor throughout 2022.
Details
PE supplies have improved, and HDPE and LDPE inventories remain strong. North American PE capacity is expected to increase by 20% later this year from Q4 2021 levels.
PP supplies remain tight. Recent plant outages, lower imports, and logistical constraints are impacting supplies. North American supplies are expected to improve later this year, however, as new US and Canadian capacity comes online.
PET supplies are tight, due in large part to plant outages and planned maintenance. PET imports into North America are expected to be strong throughout 2022 as a result of robust demand.
Supplies of food-grade PCR HDPE have tightened. Overall PCR supplies are expected to remain tight throughout 2022 and into 2023 as brands try to fulfill their commitments to use more PCR in their packaging and new legislation in various US states mandates PCR content.
Glass supplies continue to tighten due to disruptions in Ukraine and Russia and the response from customers looking to find alternative supply. Four glass plants in Ukraine have closed, and exports from Russia to the rest of Europe have stopped.
Liners supplies continue to be strained, driven by labor constraints and delays in raw material shipments.
Lead times for dispensing pump and trigger sprayers have shortened for both US and international supplies.
Our Actions
We've identified alternative liners and provided samples for qualification when needed. In addition, we're leveraging our global suppliers to find alternative sourcing for closures. We're also exploring alternatives to liners, including crab claws, plug seals, tamper-evident closures, tamper-evident and child-resistant closures, and custom solutions. We also carry a large assortment of closures in inventory with standard liners.
We continue to expand our global relationships with glass manufacturers to find more supply. We have built over 40 stock tools to help with supply options and are constantly replenishing our stock glass options to meet our customers' forecasted needs.
We're leveraging our extensive warehousing capability to help ensure supply availability for our customers. Ask about how a warehousing agreement could help you alleviate supply disruptions.
We're found domestic vendor options for some packaging when customers need to shift their packaging to North America to reduce lead times and avoid international freight costs.
We're helping customers interested in switching their packaging from glass to plastic. Ask us if you're interested in exploring hot-fill PET as an alternative to glass.
We continue to build new molds with customers looking to take cost out by reducing gram weight or aggregating/downsizing their packaging sizes.
Learn More
Polypropylene Pricing on the Move:
https://www.plasticsnews.com/resin-pricing/polypropylene-pricing-move-more-volatility-likely
Coronavirus Wave This Fall Could Infect 100 million, Administration Warns:
https://www.washingtonpost.com/health/2022/05/06/fall-winter-coronavirus-wave/

The Big Picture
The big picture: continuing price volatility. The war in Ukraine, plant outages in the US, rising prices for oil and natural gas, and ongoing logistical challenges have impacted resin prices and are likely to continue to pose a problem. On the plus side, aluminum prices are dropping as China ramps up production.
Details
PE, HDPE, and LDPE prices are holding steady thanks to robust inventories and new capacity coming online later this year.
PP prices have dropped slightly.
PET prices are up as a result of tight supplies.
PCR PET has increased 25% in the US since January as a result of strong demand. In Europe, food-grade PCR PET is almost 1,000 Euros per ton higher than virgin PET.
Supplies of bio-resins remain tight as demand for alternative materials increases.
Aluminum prices have dropped from their near-record highs and are expected to drop further as China accelerates aluminum production.
Pricing for corrugate containers is up 20% year-over-year, and lead times continue to be extended.
Our Actions
We're assessing the availability, lead times, scalability, and pricing of bio-resins, and we're actively testing products to understand performance in various packaging formats. We're also identifying manufacturers who will run these new resins in their operations.
We are working with key PCR suppliers to secure resin for our customers. Talk to us about how we can help you secure your supply.
Although capacity remains tight, we have located several container solutions for customers looking to move from plastic to aluminum.
Learn More
The Aluminum Price Forecast: China is Coming:
https://agmetalminer.com/mmwp/2022/04/25/the-aluminum-price-forecast-china-is-coming/
More Resins See Price Hikes:
https://www.plasticsnews.com/resin-pricing/resin-price-hikes-most-not-polyethylene
Resin Prices in Europe Trend Sharply Upward:
https://www.sustainableplastics.com/news/sharp-upward-price-trend-continues-costs-spike


Our team is working day and night to help you manage today's uncertainty, and we'll continue to harness our expansive resources and industry-leading capabilities to serve you. As your global packaging partner, we will continue to leverage our:
Unmatched purchasing power, access, and scale, including a vast supply network of more than 1,000 domestic and international suppliers
Financial strength to make investments that support supply
Strong relationships with strategic suppliers to increase capacity
Stable shipping connections, to move supply even in tough times like these
Team of sourcing experts, on the ground throughout the world, seeking new product options and negotiating supply for your benefit
Dedicated in-house quality professionals, preventing issues and assuring standards
Expert supply and demand forecasting to help you plan ahead, and strengthen continuity of your supply
For more, contact your TricorBraun packaging consultant or marketing@tricorbraun.com.
Get In Touch
TricorBraun's proven process will guide your packaging decisions from napkin sketch all the way to the retail shelf. Click below to get started.