Responsibility is the New Sustainability
The Covid-19 pandemic brought about many shifts in consumer behavior, and with this evolution came an expanded definition of sustainability. There is now a keen awareness of the demanding consumer economy and how easily it affects both our delicate ecosystems and evolving communities.
The new sustainable mindset encompasses the balance of both environmental and social "responsibility". Consumers recognize their impact and are striving to make choices, or purchases, that benefit the greater good. But they also understand they cannot do this alone and are expecting brands to help.
Brands that take measurable action toward environmental and social improvement and communicate their goals effectively will win their consumer's trust, and ultimately, purchase loyalty. How can brands utilize packaging to communicate responsibility to consumers? Learn more in our report.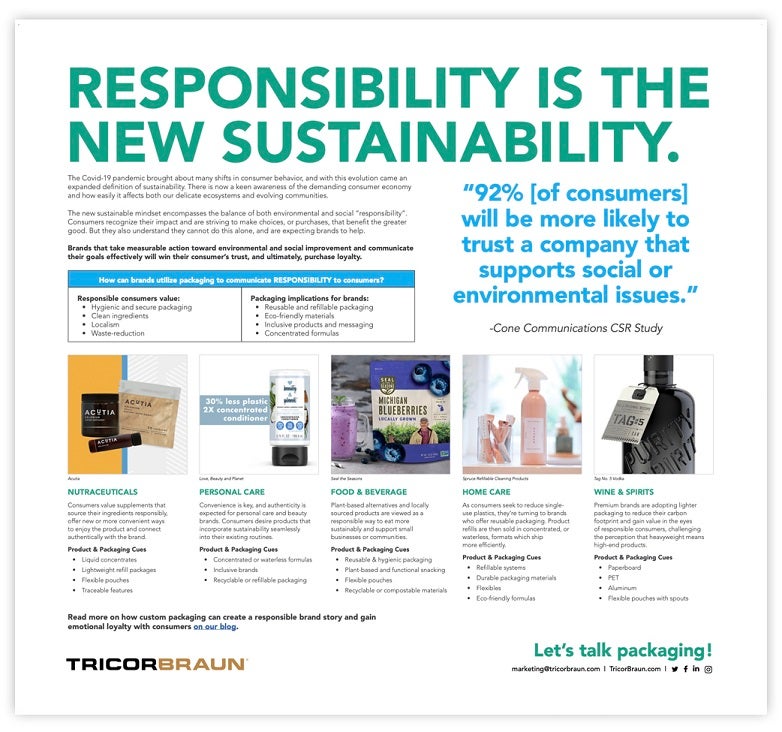 Save a Copy of This PDF
TricorBraun's Snapshots and Insights cover a wide range of packaging-related topics. Click below to get a copy of this insightful Snapshots and Insights report.