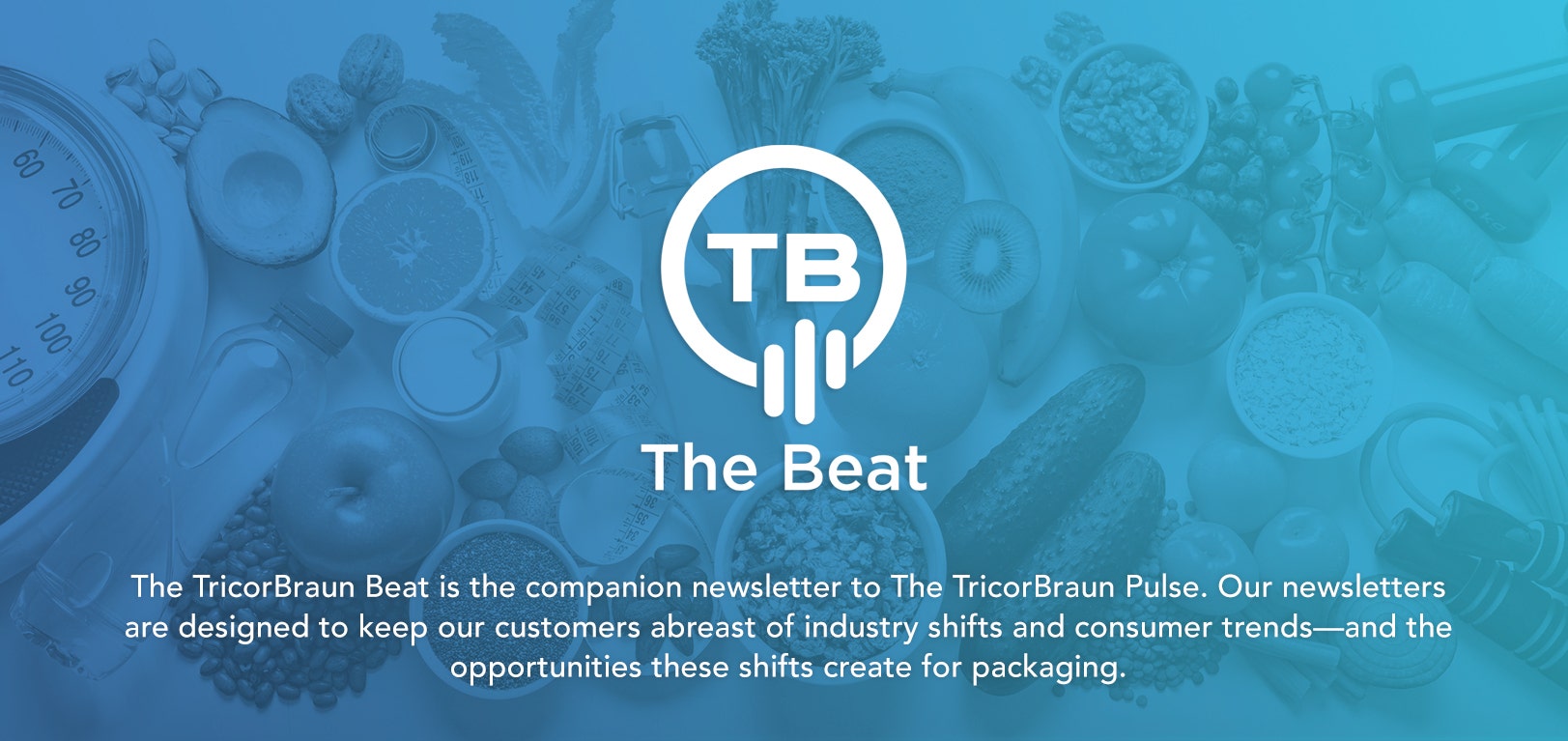 A Message from our Chief Commercial Officer and SVP, Marketing, Design & Engineering

Your packaging represents your brand's identity, and it must also deliver on the product, packaging features, and functionalities that consumers care about most. Achieving this begins with research—and understanding the consumer and market insights that help brands consider what inspires, motivates, and drives (different) people to make buying decisions.
Welcome to TricorBraun Beat. In this issue, we'll examine one big trend that can help you develop—from concept to commercialization—your perfect package. This issue looks at how consumers' perceptions of wellness have shifted from physical health to an embrace of their total wellbeing. We will identify the stakeholders driving this trend, the implications for your business, the demographic nuances, and the packaging implications you must consider to maintain and grow your market share. We appreciate and care about your business—and we're here to help you with packaging that delights consumers and drives brand loyalty for long-term sales success.
Sincerely,


We've entered a new era in health and wellness as consumers shift away from a narrow focus on their physical health to embrace total wellbeing. This approach incorporates mind and body, looking at all aspects of mental and physical wellbeing. In fact, McKinsey has identified six dimensions of wellness—health, fitness, nutrition, appearance, mindfulness, and sleep—and found untapped opportunities for CPG brands to develop new products to address each of these dimensions of wellness. Their research correlates with other data, including one study that found 94% of Americans post-COVID prioritize their health and wellness.
Embracing this holistic approach means that more and more consumers are looking for products that support their physical and mental health to achieve both longevity and quality of life. WGSN's Health and Wellness Forecast 2025 found that 46% of people globally hope to improve their wellbeing; 41% want to improve their energy levels. Instead of being anti-aging, they're pro-aging—aging well while embracing preventive care and looking and feeling their best. Mental health is increasingly front and center too, driven in part by stresses heightened by the global pandemic. As a result, more products are being developed in traditional and new formats to help consumers achieve the mental health they crave.
3 GUIDING TOTAL WELLNESS TRENDS
"If a brand wants to convincingly talk about wellbeing, they must show they care about the impact their product has on people and the planet, not just consumers making a purchase."
- Health and Wellness Forecast 2025
Consumers want wellness to be accessible and authentic. Consumers are getting savvier at separating elixirs from the complexity of total wellbeing, so your products must deliver on their brand promise. At the same time, the focus on total wellness opens up the market to a wider range of consumer products. For example, foods and beverages are critical sources for not only nutrition but also managing digestion, improving clarity, getting a healthy glow, and ensuring or fortifying people's energy levels. Categories from personal care to spirits offer opportunities to unwind and de-stress after a long day. Cleaning products keep your home germ-free. And fragrances can reduce anxiety and contribute to mental wellbeing.

Consumers are looking for products that are better for them and for the planet. They're not trading sustainability for wellness—they want both. This means that everything from packaging materials and features to your business practices can be as important as your product itself in garnering sales and brand loyalty. For example, Kuli Kuli's Mood Magic Superfood Blend is USDA organic, non-GMO project verified and a Certified B Corp that sources all its ingredients from women-led farming cooperatives across Africa, Southeast Asia, and South America. And Dirtbag Bar is a purpose-driven chocolate bar project created to raise money for mental and environmental health initiatives.
Consumers want to understand your brand values. Consumers want to know that the companies they buy from are doing the right things not only in designing their products but also in running their businesses. A recent McKinsey study found that while most companies have sustainability reports, there is often a "lack of a clear line between sustainability and strategy." And it's not just about reducing water use or mitigating other environmental impacts; it's also important that your brand story is clear about your labor practices, organizational culture, community impacts, business ethics, and other social and governance values.
Demographics

From Gen Z to Baby Boomers, consumers are taking steps to prioritize their total wellbeing. From health and fitness, to nutrition, appearance, mindfulness, and sleep, they're thinking about what they need to do to achieve and maintain optimal wellness. While all generations are focused on their total wellness, what consumers prioritize to achieve their goals—and what they spend on—varies by demographic.
Gen Z are champions of a healthy lifestyle. This generation embraces a diet-based approach to health coupled with a strong focus on stress relief and overall brain health. But don't give them a one-size-fits-all approach. According to WGSN's Key Trend 2025: Gen Z Health and Wellness, 90% of North American and Western European Gen Z "want tailored solutions that express their identity and meet them where they are." They want wellness, but they don't want to be told what they have to do to achieve it. This is also a generation that prioritizes mental health and is upfront about it. In fact, 73% of Gen Z employees say they've tapped into employer mental health benefits—a key sign that the focus on mental health isn't going to diminish anytime soon.
Millennials prioritize total wellness. A study by 360 Market Research found that Millennials are strongly concerned about their physical and mental wellbeing—and 77% said that "products that provide health benefits are worth spending money on." They are, like Gen Z, the other generation most likely to tap into mental health benefits. In addition, McKinsey found that millennials are leading the way on spending on wellness products and services. Millennials also want to do business with brands that are authentic in their values and beliefs, so speaking to your corporate values is as important as communicating "good for you" messages.
Gen X take care of their own health. As the first Gen Xers get closer to retirement, they're starting to think more about their health—and total health. According to a 2020 In Health We Trust survey, Gen Xers are more likely to take care of themselves than see a doctor. That means, for example, that they believe supplements can make a difference. As for mental health, they're looking to be resilient, and achieving that involves everything from exercise to mindfulness to quality sleep. They're also a generation that likes data, so give them wellness facts and figures and other information to help them make buying decisions that support their total wellness goals.
Boomers prioritize eating healthy and taking their supplements. If there's a generation prone to nutritious meals over indulgence, it's Baby Boomers. Boomers are focused on maintaining their physical and mental health—and aging well. 360 Market Research found 81% of Boomers support taking supplements and 79% say they like to stay active. In addition, 71% make time for their mental health—which research shows for Boomers is not about therapy as much as engaging in hobbies and other activities that create happiness. Boomers are slightly less likely than other generations to spend money on health products, so it's important that the benefits of your products are clear and concise.

Consumers are constantly thinking about aspects of their total wellbeing—at home, at work, on the go, and at rest. This means that your packaging must not only protect and preserve the product; it must also be easy for people to use where and when they need it. And if it seems that consumers want everything all at once? They do. McKinsey recently released a new report, For US Consumers, It's a Matter of "And"—Not "Or." The report notes, for example, that people want to splurge selectively and trade down; they want sustainability and affordability. In this world of "ands," suggests the report, "CPG companies must find ways to serve consumers' sometimes-conflicting needs and desires."
This is where the packaging choices you make can make a difference. In the total wellness context, there's been a rise in single-serve products, including hydrating sports nutrition drinks and cold brews in aluminum cans and plastic bottles that offer consumers convenience and portion control. At the same time, there's been a rise in multi-serve offerings for consumers looking for cost savings and/or to share a cup of coffee or a bite to eat with friends. There are "good for you" foods, boasting energy throughout your busy day, help with mental clarity, a convenient protein boost, and more. There's also been an increase in direct-to-consumer sales of everything from personal care items to supplements, along with such products as single-serve hard seltzers and spiked waters that speak to portion control and healthy living habits. And consumers increasingly want to know their packaging is resealable, reusable, or otherwise sustainable—and that means authentic on-pack messaging.

Here are some additional ways that wellbeing intersects with packaging:
Consumers are looking to make healthier choices throughout the day. Beverages are big—and the market category is only going to grow. From a packaging perspective, glass and aluminum cans are ideal ways to package products that are "good for you" and good for the environment. UK's Peak Rise Raspberry Lime Sparkling Low Sugar Botanical Drink, for example, has natural ingredients said to provide sustained wakefulness without jitters or crashing. Australia's Naked Life+ Sparkling Tropical Glow includes collagen and other ingredients to provide beauty within. Meanwhile, a Nestle executive recently suggested the company is looking to acquire wellness products in unpenetrated markets, such as "dietary supplements that provide the consumer with emotional benefits like addressing anxiety."
Consumers are paying more and more attention to packaging labels, so it's important to make it easy to see your brand positioning and read your ingredient lists. In addition, talking about your product's proven efficacy is key to making your product stand out. Products boasting energy, cognitive health, and immune support have recorded steady growth, as have customized nutritional meals. And when you want a touch of sweet? Think crave-worthy snacks in shareable formats for a social experience as well as single-serve options for people on the go. In the US, for example, AHAV's high-protein, high fiber, Cookie Dough Bites combine indulgence with clean-label ingredients.
Indulgence is an experience. Consumers want indulgence—and not only in bite-sized snacks and single-serve drinks. They are also turning to the beauty sector for personal care experiences. Lipsticks and face masks, for example, offer simple, inexpensive ways for people to treat themselves. Mintel's 2023 Global Beauty and Personal Care Trends found that 53% of US beauty consumers research ingredients to understand product effectiveness; 68% of French consumers say that looking good makes them feel more confident. Packaging formats include jars, tubes, and targeted applicators that can ideally be coupled with clear on-pack messaging about the product's benefits for relaxing and engaging in self-care. Spray coating, embossing, hot stamping, and other decorations can create beautiful packaging that elevates your product, enhances the customer experience, and reinforces that the user is doing something that's good for their mind, body, and or/spirit.
Wellbeing isn't just a people trend—it's for pets too. The number of households with pets increased during the pandemic, bringing about new opportunities for CPG companies to market to already health-conscious consumers. Because when your pet is healthy and active, you can hang out together at home, at the dog park, or on the go. Indeed, Mintel's Year of Innovation in Pet Food and Products 2023 found that 38% of pet owners in the US are looking for all-natural pet foods, and 35% are looking for snacks that address nutritional deficiencies or have other functional benefits. In the US, for example, VetIQ's 5-in-1 soft chews offer hip and joint health, immune health, and more in an easy-to-open flexible bag. In Europe, meanwhile, on-pack messaging about reducing packaging and/or emissions helps pet food brands market to cause-conscious consumers.

Finally, it's important to understand the impact of inflation on consumer behavior. In the US, 75% of consumers say that fiscal wellness impacts overall health—so affordability is an important factor in everything from food and beverages to home care. McKinsey's Consumer Pulse Survey 2023 found that 66% of consumers have sought out less-expensive goods. And the signs are everywhere that people are reallocating their budgets in ways large and small. For example, demand for single-serve coffee drinks in glass and aluminum formats is booming as people pull back on pricey coffeeshop offerings. Similarly, private-label brands from coffee to groceries are grabbing market share as consumers opt to save money where they perceive good value along with quality and performance. This means that wellness-driven brands that can manage their costs via material choices, manufacturing efficiencies, and other strategies will remain well-positioned to grab a piece of consumers' household wellness budgets.

At TricorBraun, everything we do starts and ends with our customers. We provide you with solutions for your most challenging problems to help your business grow. We can help you identify stock solutions that address consumer aesthetic and functional needs. We can design on-pack messaging to highlight your brand's wellness impact and your company's business ethos. We're continuously exploring the world of packaging, and investing in new materials and formats, to bring you both tried and true options and packaging innovations from the US and around the world. We can also create custom packaging to reduce your carbon footprint while protecting your product and showcasing your brand's total wellness story.
The TricorBraun Beat is the companion newsletter to The TricorBraun Pulse. Our newsletters are designed to keep our customers abreast of industry shifts and consumer trends—and the opportunities these shifts create for packaging—in order to help you navigate the challenges and seize on opportunities to grow your business. Gleaning insights and behaviors from these trends helps us identify and deliver packaging solutions that protect and preserve your product, resonate with consumers, and boost sales. From supply chain and operational challenges to economic and market opportunities, we are here to help you understand what's happening and how we can work together to win.
For more, contact your TricorBraun packaging consultant or marketing@tricorbraun.com.
Get In Touch
TricorBraun's proven process will guide your packaging decisions from napkin sketch all the way to the retail shelf. Click below to get started.