WPO Worldstar Awards
To be considered for The World Packaging Organization's WorldStar packaging awards, a package must have already won recognition in a national competition. Those winners are compared by an expert panel of judges to similar packages from around the world and the best of them are awarded the WorldStar.
WorldStar 2021 - Household Category
Truman's: A Refillable Bottle for a Line of Household Cleaning Products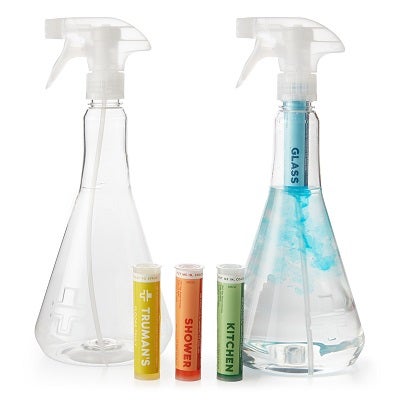 We designed a refillable bottle that evokes a beaker in a science lab. The simple design incorporates an embossed logo. The result is a package that is simple, functional, and allows the branding on the colorful cartridges to pop.
The bottle is designed so that the cartridge, which contains the actual chemical product, is suspended slightly above the fill line; once the water becomes diluted with the product, the end user can still clearly see the cartridge sitting above it.
---
WorldStar 2021 - Food Category
FUNacho: Building a Better Food Delivery System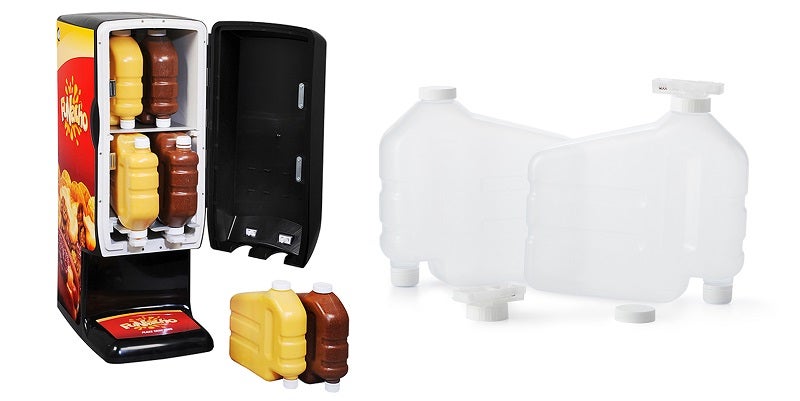 We designed an innovative new delivery system for the FUNacho chili and cheese sauce sold in convenience stores, stadiums, and movie theaters around the world. It replaces awkward and unwieldy bags with 75-ounce bottles that are simple to use. Both the bottle and the valve-assembly are made with FDA-approved resin.
This new delivery system is ergonomic and makes it easy for the end user to insert new and remove used bottles. In addition, this new design allows for evacuation of almost all of the product.
---
WorldStar 2021 - Household Category
Green Gobbler Drain Cleaner: Proudly Made in the USA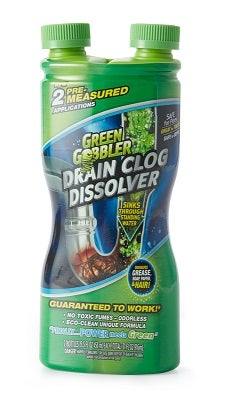 We redesigned the package to bring production back to the U.S. The sleek bottle design with vivid, eye-popping artwork and a Made in the USA stamp was so successful that the company wildly exceeded projected sales. The product's commercial success attracted a buyer—and the company was sold.
We identified a company with expertise in dual-chamber blow molding 50 miles from the filling site, addressed the challenge of lining up artwork on a non-round bottle, and integrated a puck system at the lip of the bottom of the bottle to successfully align and wrap the sleeve under the bottle.
---
WorldStar 2017 – Beverage
Arta Tequila, Arta Tequila

The design of the Arta Tequila bottle is a reworking of an earlier Arta three-sided glass bottle with both structural and graphic changes that required significant engineering and design efforts. The triangular design, with sharp corners and large flat surfaces offered multiple opportunities for bottle failure during blowing. This was further exacerbated by embossed and debossed triangular designs that produced more sharp corners.
Re-shaping the earlier short, squat bottle to a slim, tall shape delivered a dramatic shelf presence and allowed space for four-color screened graphics to better project the Arta brand look. The bottle is topped with a triangular closure to complete the dramatic look of the bottle.
---
WorldStar 2017 – Medical and Pharmaceutical
SmartMouth mouthwash, Triumph Pharmaceuticals

SmartMouth Mouthwash package is an innovative, sustainable and user-friendly package that keeps the unique mouthwash's critical ingredients separate until needed, then mixes them in proper balance as they are being poured.
---
WorldStar 2016 – Medical & Pharmaceutical
Instant Knockout, Stacked Brands

Instant Knockout is a dramatic package––a clear plastic bottle molded in the shape of a clenched fist, designed to show off the bright red capsules within while projecting the "knockout fat" theme of this weight loss supplement. It was intended to be eye-catching and designed specifically to appeal to the brand owner's target demographic: younger men who are already working out but who want help losing that last few pounds of fat.
---
WorldStar 2016 – Household Division
3M™ Patch Plus Primer—4-IN-1, 3M™

The 3M™Patch Plus Primer 4-in-1 package designed by TricorBraun features a unique tube that not only contains 3M's combined patching plaster and paint primer product, but also features a flat solid end that serves as a putty knife and includes a sanding pad on its closure. The resulting inclusive package provides both products and tools for quick household repairs.
---
WorldStar 2015 – Health and Beauty
hello® Mouthwash and Toothpaste

With the goal of "unleashing products that explored the friendly side of oral care," the folks behind hello® products turned to TricorBraun for help in creating some truly disruptive packaging that would turn heads in this utilitarian and undifferentiated category.
The TricorBraun team took on the task of commercializing concepts from BMW Designworks to bring these creative, fun, portable and appealing packages to life. By mobilizing over 100 professionals both inside the company and out, the team built 20 different molds on three platforms while working with 11 separate suppliers on multiple continents. This complex project brought out the best in TricorBraun's people and this award from WorldStar is gratifying proof that our innovative packaging process makes a difference.
This design also won the 2014 NACD Best in Show Award.
---
WorldStar 2013 - Household Division
3M Automotive Car Care Products, 3M Aftermarket Division

3M's Automotive Aftermarket Division wanted to make some changes to their existing packaging for their line of automotive car care products. They wanted a new look, but also wanted to consider more eco-friendly packaging. To that end, TricorBraun worked on a package re-design which included some sloped-shoulder oblong bottles with ribbed grips on the sides to give it a heavy-duty look and extra grip-ability. The eye-brow shaped indented label panel area protects the label. The ribbed grips are also echoed on the grip area of the oblong sprayer bottle. To increase the environmentally friendliness, all of the packages were switched from PVC resin to PETE and run in 25% PCR.
---
WorldStar 2013 - Beverage Division
ROXOR Gin, New Artisan Spirits

Buildings from world-famous skylines provided the inspiration for the custom-designed bottle created by Roxor Bottle Packaging for New Artisan Spirits for their ROXOR, a new Gin that was conceived to meet the public's rising interest in unique spirits that are distilled in limited quantities.
The 750-ml and 1.75 liter bottles are made with cosmetic grade super flint glass and have a 33-400 custom light-weight polypropylene continuous thread closure designed by TricorBraun Design & Innovation. It is embossed with the spirit's name. A flat, window-pane relief designed at the bottle's waist serves as a grip and provides a space for the two-pass silkscreen label. The bottle's parting-line is placed on a diagonal so it cannot be seen across the face. The 1.75-liter bottle is taller and wider than its 750-ml counterpart yet maintains the same scale.
This design also won an AmeriStar and a NACD award.
---
WorldStar 2013 - Pet & Vet/Other Division
Lickety Stik
A low-cal dog treat in a deodorant roll-on bottle! Now that's a creative use of stock packaging! This package has proven to be a very big seller!
The full-body shrink sleeve labeling makes it very clear that the product you normally expect to see in this package is NOT what's there. But it's unusual enough to get people to pick it up.
This design also won an AmeriStar and a NACD award.
Prior WorldStar Awards
WorldStar 2011-2012 - Beverage Division
Superberries 100%, Pure Aronia Concentrate
WorldStar 2011-2012 - Household Division
Sevin Ready-to-Spray, Bug Killer Concentrate
WorldStar 2009 - Beverage Division
First Juice
WorldStar 2009 - Household Division
Hillyard "Double Down"
WorldStar 2006 - Gen Ind & Automotive Division
Shell Oil "Tire Wet"
WorldStar 2005 - Personal Care Division
Avlon "Affirm Hair Relaxer"
WorldStar 2004 - Gen Ind & Automotive Division
EcoLab "SP2"
Get In Touch
TricorBraun's proven process will guide your packaging decisions from napkin sketch all the way to the retail shelf. Click below to get started.