This blog touches on the importance of glass packaging and protecting your product from UV light. We will explore the benefits of using tinted glass bottles, such as cobalt blue and amber colored glass, for blocking UV light and protecting light-sensitive products, such as essential oils, supplements, or medicine.
Does Clear Glass Offer Any UV Protection for Bottled Product?
Sunlight is made up of both UVB and UVA light. Depending on your product, exposure to UVA sunlight can cause damage, especially if it is highly light-sensitive. Glass packaging is an excellent way to protect your product from UV light. While clear glass offers some UV protection, tinted glass offers additional protection.
How Tinted Glass Can Help Protect Bottled Product
Tinted glass such as amber and cobalt blue can block UV light, which can help protect your product from unwanted damage. Green glass bottles, for example, are popular for protecting beverages but offer less protection from UV light than amber or cobalt blue. Similar to clear glass, green tinted glass can block visible light, that can cause discoloration or spoilage of your product.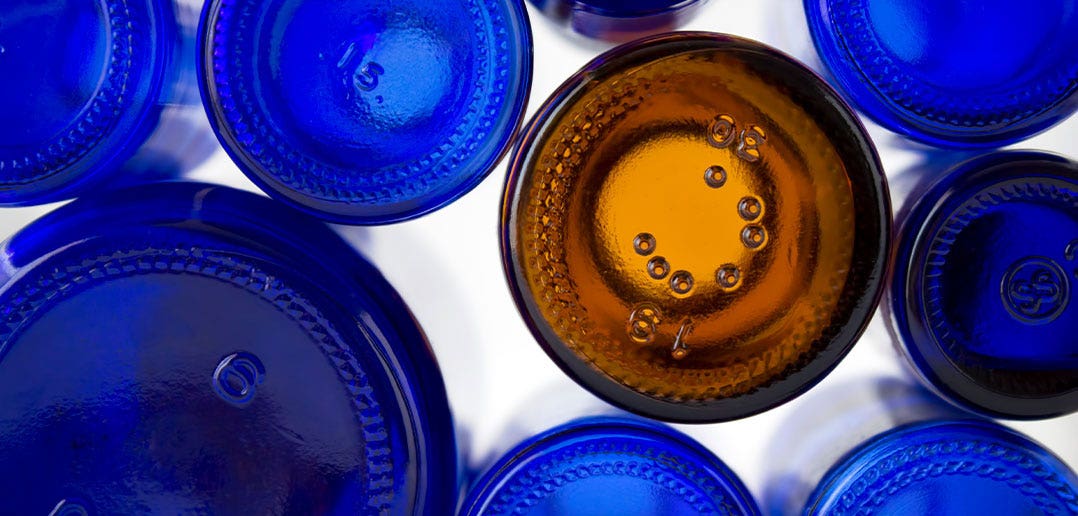 A Tale of Two Tints: Cobalt Blue Glass vs Amber Glass
When it comes to tinted glass bottles, cobalt blue and amber glass are the most popular options. Cobalt blue glass is excellent for protecting your product from both visible light and UV light. This makes it an ideal option for light-sensitive products such as essential oils.
On the other hand, amber glass is known for its ability to block out UV rays. It can absorb light wavelengths shorter than 450 nm, making it ideal for products sensitive to UV light such as beer, spirits, or pharmaceutical products.
If you're looking for tinted glass bottles for your product, we recommend checking out our selection of cobalt blue bottles and amber glass bottles.
Product Types that Benefit Most from Tinted Glass
There are several product types that greatly benefit from using tinted glass bottles. These include essential oils, pharmaceutical, personal care, food, and beverage products. Switching to tinted glass can help prolong the shelf life of your product and maintain its quality.
TricorBraun offers a range of stock and custom packaging options to suit your needs. Our selection of colored glass bottles includes cobalt blue, green, and amber options in various sizes and shapes.
Overall, glass packaging is an excellent way to protect your product from UV light and other environmental factors. Tinted glass, such as cobalt blue and amber colored glass, can offer additional protection for light-sensitive products. To learn more about our packaging options, please talk to one of our packaging consultants today.
---
TALK TO A PACKAGING CONSULTANT
Whether you're looking for a stock package or a groundbreaking custom design, TricorBraun's proven process will guide your packaging decisions from napkin sketch all the way to the retail shelf.