Indulgent ingredients and sensory details both play a role in the thoughtful design that elevates an alcoholic beverage from a premium product, to a premium experience. Whether consumers seek relaxation, indulgence, or experimentation from their alcoholic beverages, they will appreciate packaging features that make them feel excited and confident about the quality of their purchase.
Interactive Details

Peel-Back Labels
Every peel-back label on a Zardetto Prosecco bottle reveals an inside layer of colorful artwork that's unique to each wine.

Dual-Chambered Bottles
DRNXMYTH ready-to-drink cocktails have a two-chambered packaging system separating spirit and mixer. The bottle design allows consumers to twist and shake the packaging to mix fresh upon opening.

Augmented Reality (AR) Labels & Near Field Communication (NFC)
(left) Winerytale's AR labels allow consumers to view 'scenes' of the brand through video, interactive content to enhance communication, authenticity, and storytelling for the consumer.
(right) NFC is a technology that allows two-way communication between a phone and an NFC tag, typically inside of the label or cap. By tapping the area with their phone, consumers can gain access to information supplied by the brand such as ingredient information, quality assurance, or special certifications.
Mixology at Home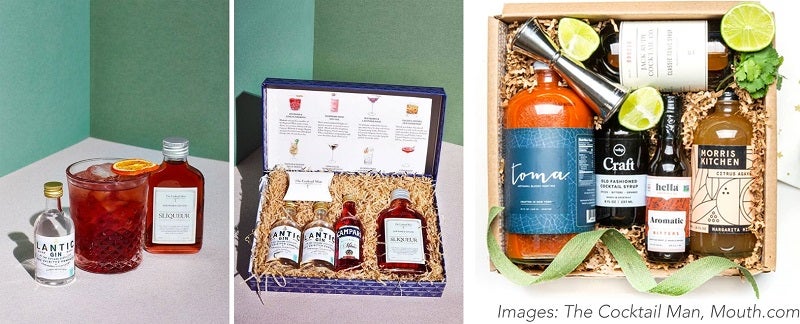 Direct-to-Consumer (DTC) Kits
Consumers have flocked to at-home cocktail delivery systems for a similar bar feeling and experience. Cocktail kits let the consumers relax at home while also indulging in more premium ingredients and techniques. For DTC, ensuring a clean unboxing experience with secure seals and protective secondary packaging for glass is paramount.
Lightweight packages like PET or flexibles can also be a good option to reduce shipping weight and prevent breakage. Graphics inside the secondary package can be used to further enhance the unboxing experience by communicating product details and a brand message.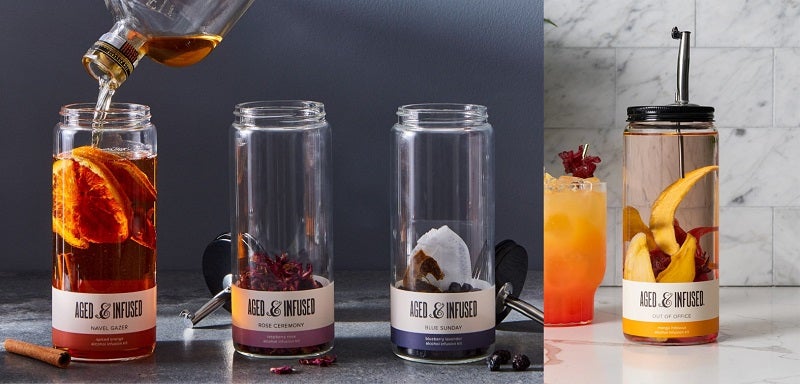 Infusions
Aged & Infused Navel Gazer Alcohol Infusion Kit is a visual treat for the eyes. Users can ease into the familiar flavors of tangy oranges, warm cinnamon, and clove by seeing the ingredients visually before purchase. The pre-measured ingredients come in a glass jar, ready for infusion.
Consider using easy to open and resealable packaging for infusions. Wide-mouth glass jars are optimal for the ability to stuff pieces of fruit or herbs inside, and measurement indicators embossed on the bottle can make use even more intuitive for the consumer.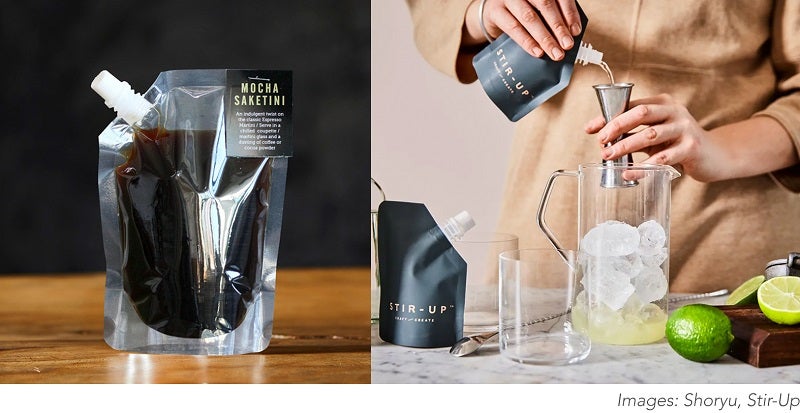 Portable Cocktails in Flexible Pouches
Pre-made cocktail and DIY cocktail mixes sold in a flexible spouted pouch are meant to be enjoyed in the comfort of home, and in the consumer's preferred cocktail glass. The flexible packaging makes them lightweight and optimal for ecommerce shipping. It also offers a portable solution for areas where glass bottles are not permitted.
Escapism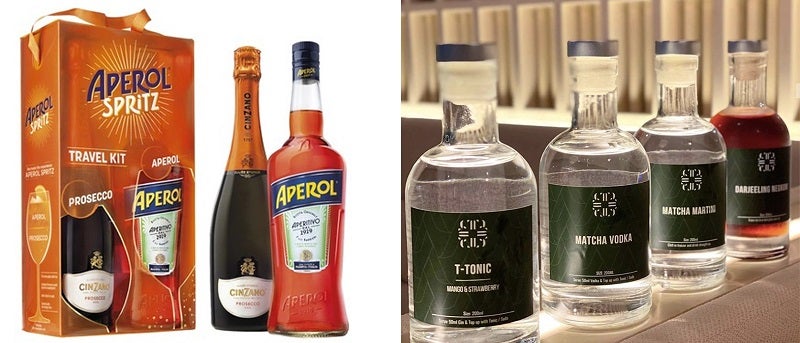 International Focus & Unexpected Flavor Combinations
(left) Aperol is an Italian bitter apéritif noted for its bitter taste and perfect partnership with club soda. Aperol is commonly used for the Italian-wine cocktail, Aperol Spritz, which has grown in popularity. Consider using tactile features like embossings to add extra branding and premium design details.
(right) Hong Kong bar Tell Camellia has introduced a range of innovative bottled cocktails. They have bottled up the common flavors of Asia with their four cocktail flavors: Darjeeling Negroni, Matcha Martini, T-Tonic (Mango & Strawberry), and Matcha Vodka. Simple label designs with clean typography creates a seamless family look between flavors, while still allowing the consumer to quickly differentiate between products.
Healthy and Natural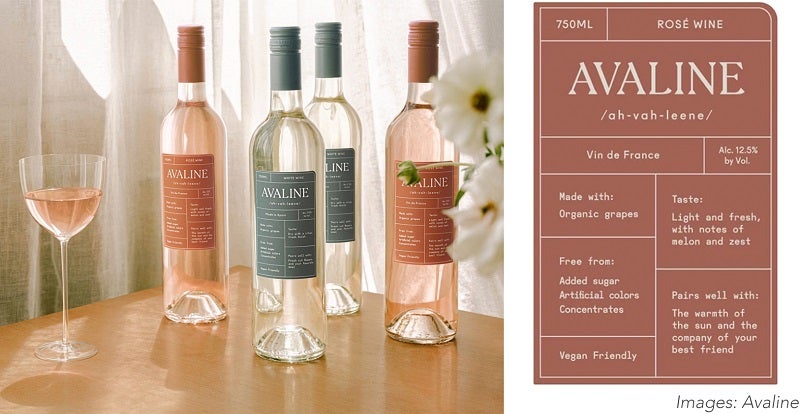 "Free From" Language
Free-from language lends itself intuitively to the natural wine movement, which boats the production of grapes grown without pesticides, chemicals, and other additives. Healthy natural wine brands have emerged as the go-to transparent and authentic wine choice as they are made without tons of fillers. Prominently featuring free-from language on the label helps position the brand as a "better-for-you" option in the minds of health-conscious consumers.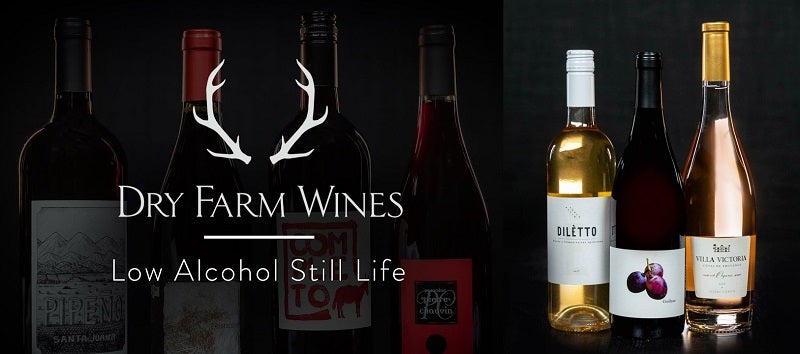 Low-Alcohol Celebrated
Dry Farm Wines creates lab-tested and honest natural wines. Their wines are all natural and additive-free, lab tested for purity, sugar-free, and have lower alcohol content. Calling attention to this benefit with premium label designs indicates to consumers that low alcohol content doesn't come at the expense of a high-quality product.
For the wine and spirits market, product and packaging details like at-home experiences, and ingredient transparency all play into the trend of "comfort and protect". And brands who position their products to target these experiences will command the attention of consumers.
For more information on creative and cool alcohol packaging solutions that are designed to be eye catching, email us at marketing@tricorbraun.com.
---
TALK TO A PACKAGING CONSULTANT
Whether you're looking for a stock package or a groundbreaking custom design, TricorBraun's proven process will guide your packaging decisions from napkin sketch all the way to the retail shelf.