Ecommerce sales have increased 11.3% from pre-pandemic levels.
Consumers' growing embrace of both ecommerce and direct-to-consumer platforms means that companies that haven't prepared for ecommerce are being left behind. However, with the right packaging solution, sales growth and brand loyalty are achieved in today's omnichannel world.
Packaging solutions optimized for ecommerce survive the packaging journey, intact and on point with consumer expectations. Important considerations are:
Package Integrity
Consumer Experience
Overall Package Appeal
ECOMMERCE PACKAGE OPTIMIZATION CONSIDERATIONS: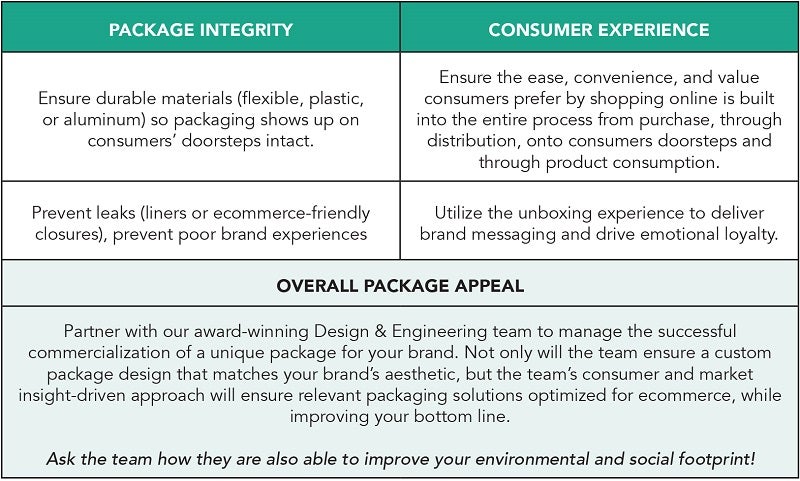 How does TricorBraun's Design & Engineering team ensure custom packaging solutions optimized for ecommerce?
Our award-winning team leverages consumer and market insights to identify what package requirements are needed. Then, deliver cost-effective, manufacturable packaging solutions and ensure successful commercialization by validating and testing the package's performance.
Supply Chain Collaboration
Our Design Engineers partner with Supply Chain early to draw on our deep network of partners in the industry to ensure speed to market and a reliable supply.
Distribution Pre-Testing for Ecommerce and Brick-and-Mortar
Our experienced Quality Engineers have the capability to run physical performance tests and pre-test your packaging solution for quality assurance via the distribution channels of ecommerce and brick-and-mortar.

Together, we deliver ecommerce-friendly packaging that lowers costs, improves efficiencies, and increases sales.
Learn more about packaging solutions designed for ecommerce by reading our blog and white paper, and contact us at marketing@tricorbraun.com to get started.
Source
---
TALK TO A PACKAGING CONSULTANT
Whether you're looking for a stock package or a groundbreaking custom design, TricorBraun's proven process will guide your packaging decisions from napkin sketch all the way to the retail shelf.