Consumer packaged goods (CPG) companies that operate responsibly will stand out in the market. To achieve this requires brands to show how they are both environmentally and socially conscious. In other words, you have to design your packaging to tell your story.
A new study of consumer sentiment found that "after a year punctuated by social unrest and widespread tragedy, people are more sensitive about what they buy and whom they buy from." Consumers are more likely to be loyal to a brand "that shares its efforts to be environmentally responsible or has sustainable/ethical business practices." As a result, savvy brands are using their packaging to help establish emotional loyalty.
When it comes time to think about and develop a responsible package, TricorBraun can help. Our Design & Engineering team uses a robust, five-step process for a sustainable package design that incorporates environmental and social insights to recommend packaging materials and solutions that resonate with consumers and help your business thrive.

Responsibility is no longer optional. It's not just consumers putting pressure on brands; so are policymakers. New regulations are coming online that are shifting the cradle-to-grave responsibility for sustainability onto brands. This reinforces the business imperative for companies to adopt responsible practices and implement ESG goals and commitments.
While a number of plastic bag bans are already in effect, efforts are now underway in a number of U.S. states to ban single-use plastic food and beverage containers. A bill in California to severely restrict the use of non-recyclable plastic was defeated—for now.
A new law in Maine, meanwhile, makes the Pine Tree State the first in the U.S. to require companies that create consumer packaging to pay for the costs of recycling. Elsewhere, the EU has implemented a new tax on virgin plastics, and the United Kingdom has a similar tax coming online next year.
Building your responsible packaging story.
At TricorBraun, our team of design & engineering, supply chain, and quality experts can help assess your needs and design and commercialize responsible packaging for your brand.
Creating your responsible package depends on your brand goals, your budget, and your timeline—and it incorporates a wide range of decisions along the way. Two key choices impacting responsibility: material selection and packaging design.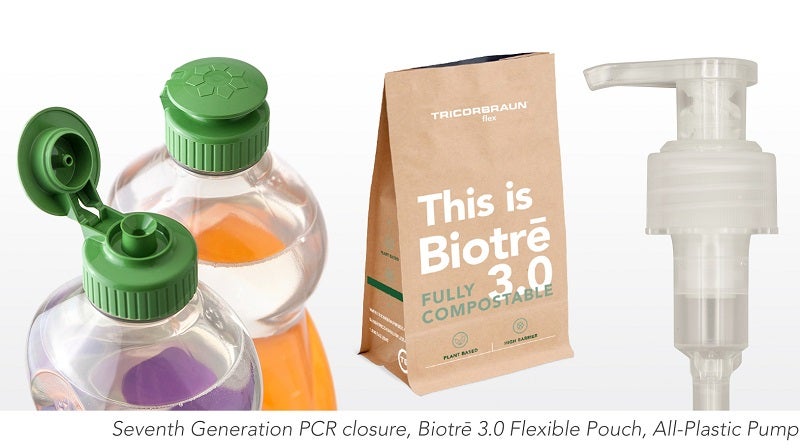 While post-consumer recycled (PCR) plastics are getting a lot of attention, there are in fact a wide range of options for incorporating sustainable and sustainably sourced materials into your package. Our supply chain and sustainability experts around the globe can source a wide range of options, including paperboard, bio-resins (e.g., sugarcane), recovered plastics (e.g., OceanBound Plastic) and compostable packaging (e.g., Biotre).
We can also source monomaterial components, from flexible bags to pumps, trigger sprayers, and other closures. Our quality team can test alternative resins for strength, durability, and longevity to validate the functionality of your packaging components and ensure that your selections are the best options to ensure package integrity and shelf life.
The package design elements, meanwhile, can optimize the amount of material used, the ease and cost of transportation, and even the lifecycle of the package itself. These factors help to create a more eco-friendly packaging design.
Similarly, lightweighting uses less plastic by ensuring you're only using as much packaging as needed. And a refillable and reusable package extends the life of the package and means that you don't need to dispose of or recycle it.
Finally, don't forget that consumers want to see and hear your responsible story. Effective on-pack messaging that showcases your commitment to being a responsible brand that believes in environmentally friendly packaging options will resonate with consumers and motivate them to reach for your product on the shelf. This branding can run the gamut from eco-conscious messaging to highlighting corporate commitments to charitable giving and/or a wide range of causes. Color and texture matter too, such as earth-toned pallets, green hues on boxes, or natural materials with subtle imperfections.
Responsible design in action.
Here's how TricorBraun helped two very different companies design effective packaging that aligns with their business and responsible brand objectives.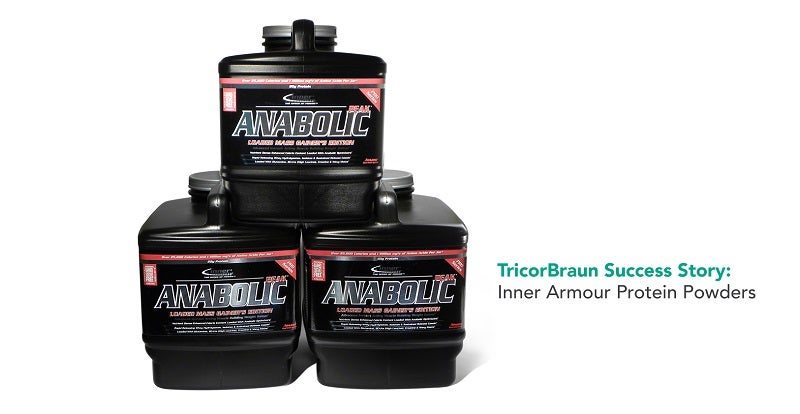 Our Design and Engineering team created an award-winning design for sports nutrition company Inner Armour that took two existing products out of bulky, flexible packs and into stackable containers. The new design enabled the company to put more of its Mass-Peak and Nitro-Peak product into each package while at the same time allowing Inner Armour to stack and ship 30% more product in each international container. In addition to reducing shipping costs substantially, the redesign lessened the company's environmental footprint.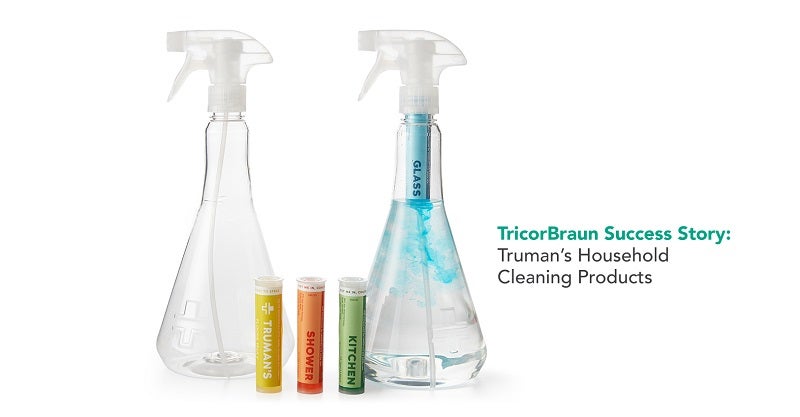 For Truman's line of household cleaning products, our Design & Engineering Team created a Best of Show award-winning bottle designed to evoke a beaker in a science lab. Customers fill the bottle with water and insert a chemical cartridge, which contains the actual chemical product, into the spray closure.
Because the bottles are refillable and reusable, the package results in significant cost savings. Fewer bottles need to be manufactured, meaning that significantly less plastic is being used versus buying a new bottle every time. In addition, those bottles that are manufactured are shipped empty (increasing efficiency, reducing shipping costs, and reducing the manufacturing and shipping carbon footprint). The environmental benefits also play into the cultural shift toward doing more with less.
Ready to explore how your packaging can reflect your commitment to being a responsible brand? Contact our award-winning team to get started on the best sustainable packaging solution for your needs today.
---
TALK TO A PACKAGING CONSULTANT
Whether you're looking for a stock package or a groundbreaking custom design, TricorBraun's proven process will guide your packaging decisions from napkin sketch all the way to the retail shelf.