As brands look to reduce their carbon footprint and increase trust with consumers, they are tapping into growing demand for environmental and moral responsibility. In the food and beverage space, responsibility revolves around brand transparency, plant-based ingredients, but above all – hygienic packaging that is eco-friendly.
Educational On-Pack Language
Forward-leaning brands are currently exploring carbon reporting by dedicating front panel space to the claim, and then further helping consumers understand what it means. Brands that can tie their responsible features seamlessly into their product identity will create a lasting impression.
(Left) Upfield has introduced on-pack carbon labeling to 100 million packs of its dairy and plant-based margarines and spreads by the year-end 2021.
Read about compostable pouches for dry food available through TricorBraun here
(Right) Planet Protein ditched their plastic scoop and created a zero-waste packaging program to ensure waste doesn't enter the landfills or oceans. Every bag saves the equivalent of 2 animal lives, 55 square feet of forest, 40 lbs. of CO2, 70 lbs. of grain and 2,000 gallons of water.
Plant-Based Boom
Consumers are prioritizing health, which means they are hyper aware of both quality, origin, and functional benefits of ingredients in their products. They want assurance the ingredients are being sourced responsibly and are actively looking for brands that promote sustainability throughout their supply chain. As such, there is growing favor for vegan and vegetarian food and beverage choices, giving rise to products made from plant-based alternatives.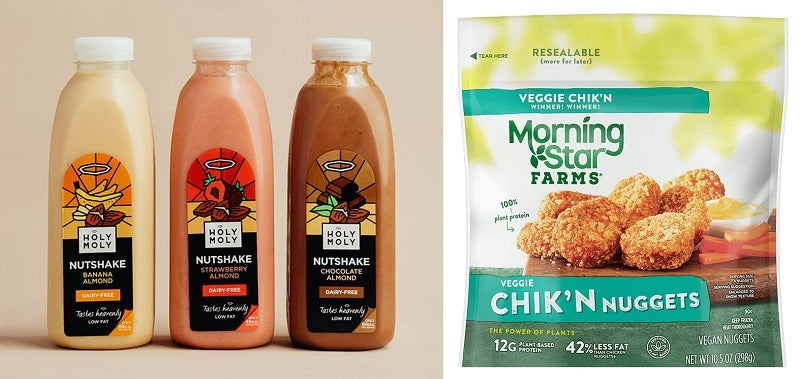 (Left) Holy Moly vegan shakes are a collection of plant-based "nut-shakes" made from a blend of raw, unpasteurized almond milk, and fresh fruit, packaged in a tamper-evident PET bottle.
(Right) Morning Star vegetable chicken nuggets are made from plant-based alternatives. The veggie nuggets are packaged in a resealable stand-up flexible bag.
Safely Sustainable
Brands are finding ways to bring safety and sustainability together with new packaging materials. If the packaging is one-time use, the materials should be easily recyclable. And if the package is to be reused, it should be sturdy enough to withstand high-temperature cleaning and increased shipping touchpoints.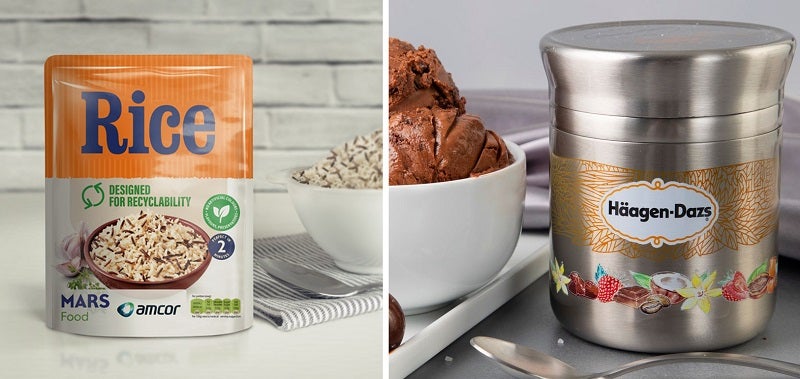 (Left) Mars Food announced the launch of its all-polypropylene (PP) flexible packaging for its one-time use microwavable rice pouch. The mono-material film is designed for improved recyclability.
Read about mono-PP films available through TricorBraun here
(Right) In partnership with Loop, Häagen-Dazs has launched a reusable stainless-steel ice cream canister. Once finished with the product, consumers ship their containers back to Loop to be fully sanitized and refilled.
Where to Start?
The primary role of any package is to preserve and protect the product, but there are many ways to address these needs with responsible packaging choices. TricorBraun is here to help our customers navigate their unique sustainability goals to provide the right packaging solution for their brand.
For more information on environmentally responsible packaging solutions for food and beverage products, email us at marketing@tricorbraun.com.
---
TALK TO A PACKAGING CONSULTANT
Whether you're looking for a stock package or a groundbreaking custom design, TricorBraun's proven process will guide your packaging decisions from napkin sketch all the way to the retail shelf.