Personal care brands have an enormous opportunity to reach consumers and build brand loyalty. More people are looking for personal care solutions for their self-care routines to achieve a stress-free and calming lifestyle.
At the same time, consumers are hungry for brand transparency and want easy-to-use products. Therefore, personal care brands must consider several factors in their packaging strategy to drive a positive consumer self-care experience. Here are nine to examine:
QR Codes Provide Interactive, 'How-To' Experiences
Brands are utilizing QR codes to create engaging and immersive experiences, including helping consumers visualize how to use the product before purchase. Scannable QR codes on the packaging also make it easier for consumers to access 'how-to' content. For example, the Uoma skincare brand uses a scannable QR code on the packaging for consumers to "try on" formulas virtually.
Packaging Personalization Meets Unique Consumer Needs
With personalization on the rise, beauty brands are creating custom skincare and makeup products and packaging that suit the unique needs of consumers. For example, Charlotte Tilbury's Beautiful Skin Foundation, which provides the perfect shade through its new Genius Foundation Finder, offers personalized product packaging by engraving its lid with a name or short message for the buyer.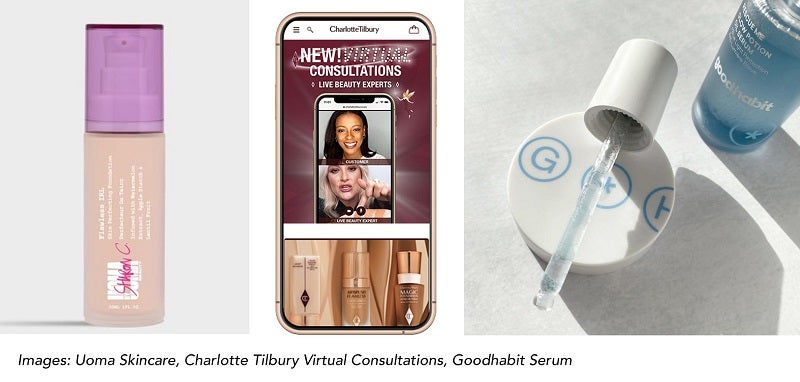 Skincare Solutions Address Increased Screen Time at Home
Consumers are increasingly aware of the impacts of blue light emitted from screens when they spend most of the day in front of a computer. As a result, brands are creating innovative, protective skincare products that provide a barrier against blue light. Sprays and droppers are perfect for convenient dispensing and application. For example, the Goodhabit Rescue Me Glow Potion Oil Serum bottle has a push dropper that doses the correct amount of product for the skin to prevent damage from blue light.
78% of consumers are aware of the health and safety concerns that have been raised about screen time and extended exposure to blue light. (AYTM and Eye Safe)
Luxurious Products and Packaging Drive Positive Self-Care Moments
Droppers on luxurious personal care bottles are also elevating the self-care experience. Easy product application combined with a pleasant tactile experience drives positive self-care moments. For example, the Potion by Ketish is an all-natural soothing oil housed in a luxurious glass dropper bottle providing a lavish feel.
Packaging That Communicates Mission-Driven Engagement
Brands are increasingly taking a mission-based approach to marketing and using packaging as a way to communicate their vision through the use of braille or empowering partnerships.
Humanist Beauty Facial Oil has an easy-to-read "Facial Oil" braille ID band molded into the front of the glass dropper bottle for those with blindness or severe visual impairment. And Conscious Coconut is a socially conscious coconut oil brand that empowers disabled adults by offering packaging jobs at its fulfillment center. Its packaging also features a mix of recycled glass and a vegan bamboo lid.
Calming Colors, Motifs Encourage Relaxation
Brands are creating relaxing personal care formulas in packaging with calming colors and motifs to encourage consumers to unwind and find a deep body and mind relaxation. For example, Dally Botanical Hand Wash displays fragrance notes on the rectangular bottle.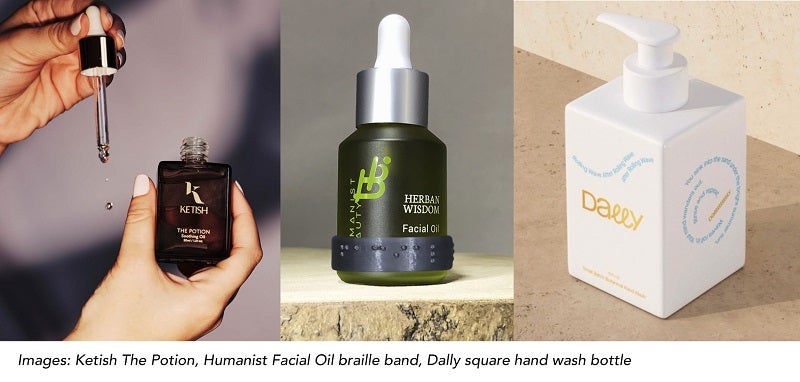 '
Ultra-transparent Ingredients Gain Consumer Trust
To provide transparency and simplified information consumers demand, brands are leveraging packaging labels to list their ingredients in easy-to-read layouts. Youth to the People features its ingredients prominently on the front of the glass container.
Packaging Ease of Use Desired for Spa-like Rituals
The self-care space is inspiring brands to offer spa-like fragrances and ingredients in flexible packaging and easy-to-spray-and-use packaging formats. For example, Body Restore Essence Shower Steamers are made with natural and organic ingredients formulated into shower tablets packaged in a standing, flexible bag.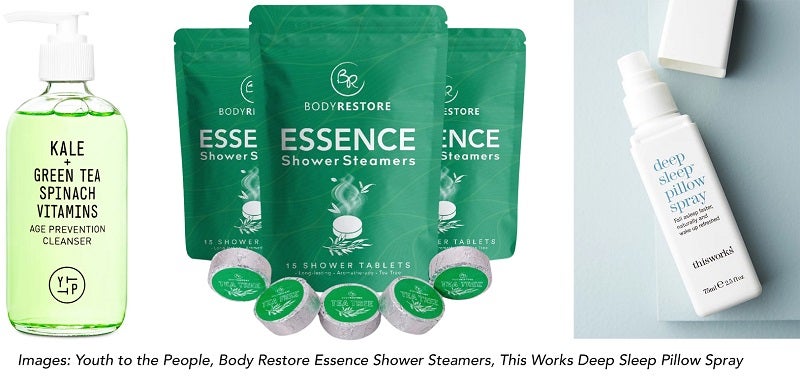 Sleep Detox Remedies That Provide Calming Experiences
By leveraging home essential oil diffusers and functional fragrances, brands are developing sleep-promoting solutions that come in essential oil droppers, calming mists, and blends of soothing ingredients. For instance, the This Works Deep Sleep Pillow Spray is designed to refresh pillows while providing a sense of calm and deep rest. In addition, the bottle features a square cap, providing a different tactile feel from competitors.
No Stress When You Build Your Packaging Strategy with TricorBraun
TricorBraun has a robust supply chain network, and our award-winning Design & Engineering team builds custom, innovative personal care packaging solutions to create more mindful connections with consumers. For more information, please contact us at marketing@tricorbraun.com.
---
TALK TO A PACKAGING CONSULTANT
Whether you're looking for a stock package or a groundbreaking custom design, TricorBraun's proven process will guide your packaging decisions from napkin sketch all the way to the retail shelf.