Consumers seek mindful connections with home care brands to create a sense of trust with the products they bring into their homes.
They view home care as an extension of self-care due to the relief of knowing their home is clean. In fact, #CleanTok has over 38.2 billion views on TikTok attributed to consumers finding comfort in viewing content "related to cleaning hacks…that bring a mindful balance to home life." (The New York Times) Therefore, they want innovative home care products that minimize the stress of cleaning and create a soothing environment.
"Mindful cleaning offers multiple benefits, including replacing the body, calming the brain, and fostering a sense of accomplishment when the job is done"
- Craig Sawchuck, Psychologist and Division Chair of Integrated Behavioral Health, Mayo Clinic
These consumer trends present many packaging opportunities for home care brands to demonstrate their commitment to transparency and clean ingredients while making home care routines more mindful and relaxing. Here are six examples.
QR Codes Provide Smart Verification, Drive Emotional Connections
Home care brands are incorporating QR codes on their packaging with links to custom music playlists, poetry performances and events to drive a personalized consumer experience. For example, the Home Moment Amber Fragrance Large Luxury Soy Wax Candle includes a seed card in each candle box with a scannable QR code for natural soundscape recordings.
QR codes and blockchain technology also build consumer trust by ensuring sustainable traceability. CleanRWith creates cleaning products certified with blockchain technology for traceability and authenticity. Consumers can also scan a QR code to verify in real-time when a facility was sanitized using CleanRWith.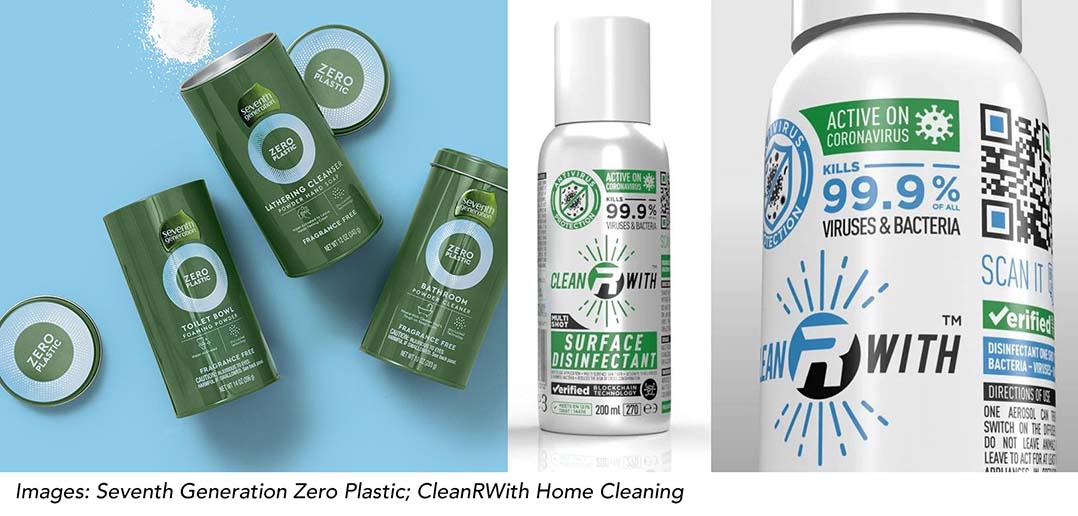 Packaging Communicates Commitment to Transparency
Brands are using packaging to demonstrate their commitment to transparency and clean ingredients to make a positive first impression with the consumer who is deciding whether they will purchase the product. The Green Forest washing soap product underscores its mission by using a green-centric design that highlights its natural elements. Also, the soap is packaged in clear bottles that offer brand transparency by allowing consumers to see the liquid product directly.
Easy-to-Clean Workout Cleaners Prompt Relaxation
As fitness and wellness activities have moved into the home space, brands are creating products that help clean, protect and maintain fitness-related gear and clothing. Spray bottles are an easy-to-use solution for quick cleanup of fitness-related equipment. For example, Lululemon offers a Yoga Mat Spray Cleanser that cleanses and deodorizes while preserving the mat's grip in an easy-to-spray bottle.
Waterless Formats Support Sustainability
Brands are looking to waterless formats to create more sustainable products that reduce water consumption for eCommerce delivery and allow for more mindful usage upon delivery. For example, Tru Earth Multi-Surface Cleaner Strips are a concentrated cleaning solution sold in zero-waste compostable packaging that replaces the need for various home care products from toilet cleaners to floor cleaners.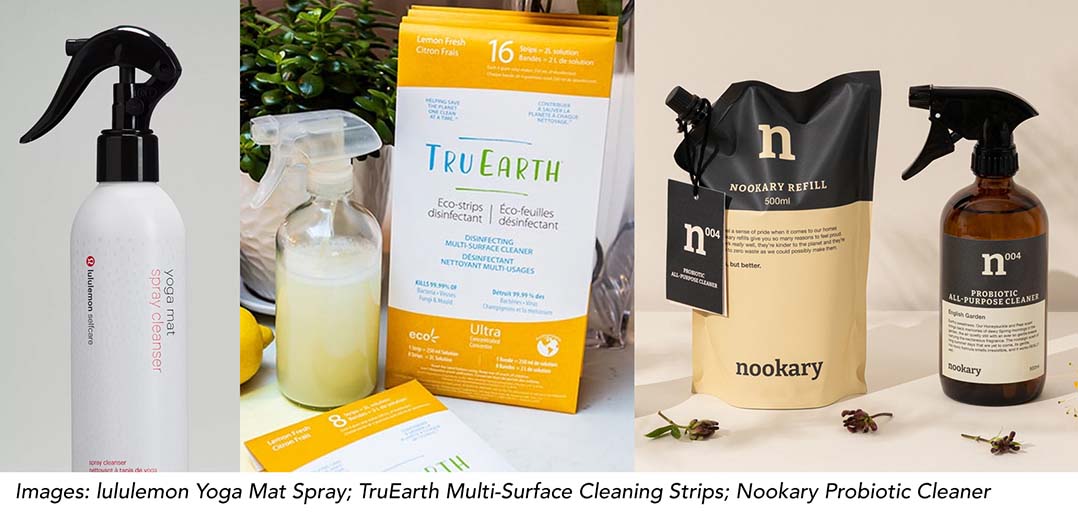 Probiotic Cleaners Create Healthy Home Biomes
Probiotics are used in cleaning solutions to maintain and sustain a healthy home biome and provide consumers a sense of ease knowing their home surfaces are clean. Nookary's All-Purpose Probiotic Cleaner is a natural household cleaning spray with refillable pouches that use plant-based lactic acid. The refillable pouches are then housed in an easy-to-spray bottle.
A Sense of Home Care Trust Starts with TricorBraun
Looking for packaging options that create a sense of consumer trust in the home? Whether it is from our robust supply chain network or custom solutions from our award-winning Design & Engineering team, get started by contacting us here.
---
TALK TO A PACKAGING CONSULTANT
Whether you're looking for a stock package or a groundbreaking custom design, TricorBraun's proven process will guide your packaging decisions from napkin sketch all the way to the retail shelf.