In a category traditionally filled with powders and tablets, gummies provide a modern alternative for consumers who seek an easy and enjoyable way to incorporate supplements into their daily routines. The fun texture, bright colors, and gummy candy-like flavors have all contributed to gummies' well-established popularity in the nutritional space. Now, due to the widespread demand for wellness-oriented products, gummy supplements have grown into categories like beauty, skin care, gut health, mental health, sleep, and energy.
The right packaging will protect the product and elevate the look of the brand.
Common formats for gummies include styles like wide mouth plastic bottles and jars with non-dispensing closures (ingredient depending, some require child-resistant closures). Outside of the primary packaging format, certain materials, shapes, and decoration styles will help create the modern appeal consumer's desire for this category.
Translucent Colored PET
Benefits
Translucent coloring protects light-sensitive formulas and still showcases the product
Ideal for pressure sensitive labeling or silk screen decoration
Goli Nutrition Apple Cider Vinegar supplies powerful antioxidants to support the wellness benefits of apple cider vinegar, without the vinegar taste. The gummies are packed in a translucent red PET bottle.
Sundaily's The Base Layer is an antioxidant-rich vitamin that helps prevent skin aging. The gummies are packed in an amber PET jar with a modern label.
Square Footprint
Benefits
Optimizes space on shelf and during shipping
Large billboard for decoration and product messaging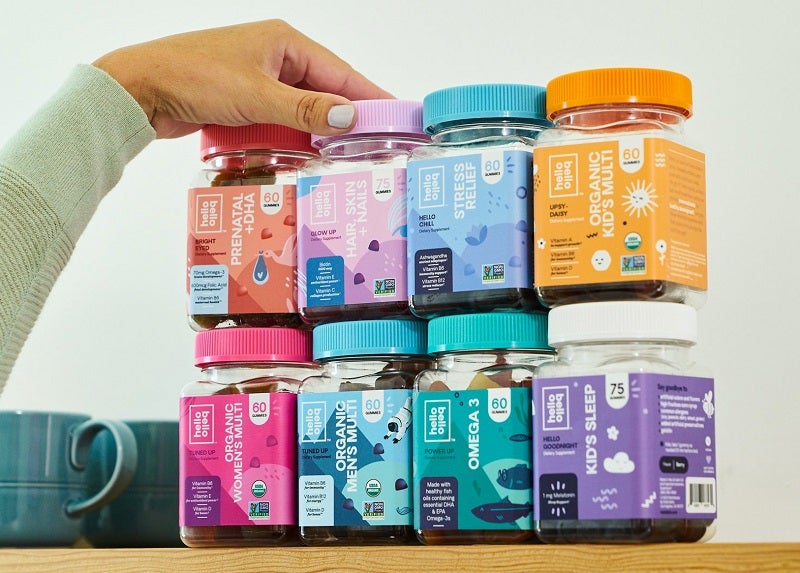 Hello Bello Vitamins features a range of supplements that are color-coded and transparent, allowing a look in at the bright gummies inside. The square PET bottle is paired with a child-resistant closure (CRC).
Shrink Sleeve Decoration
Benefits
Provide maximum decoration coverage, even with custom shapes
Incorporate opaque and transparent design elements in one step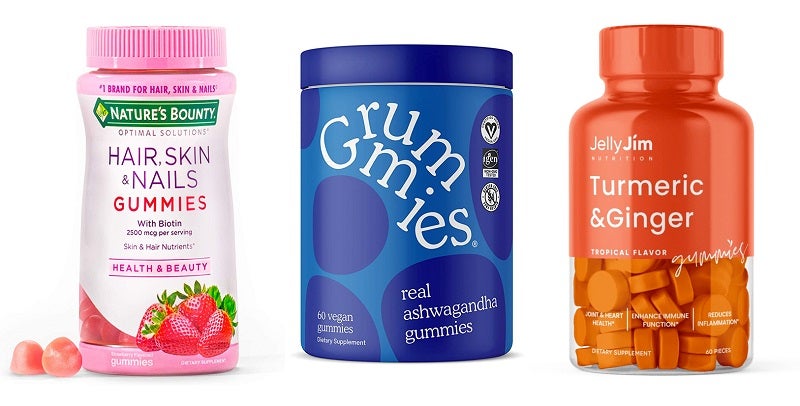 Nature's Bounty Hair, Skin & Nails includes Biotin and Vitamins C & E to support natural beauty. They are packaged in a PET bottle, CRC closure, and shrink sleeve to take advantage of the curvy profile.
Grummies Real Ashwagandha gummies use ayurvedic superfood ingredients to promote calming effects. They are packaged in a HDPE canister with shrink sleeve decoration for sleek branding and full decoration coverage.
Jelly Jim Tumeric & Ginger help avoid inflamation and reduce pain. They are packaged in a clear PET bottle and a creative use of shrink sleeve decoration to color code and reveal the product inside.
Plastic-Free Materials
Benefits
Aluminum jars and tins can be recycled or reused
Paperboard tubes are lightweight and recyclable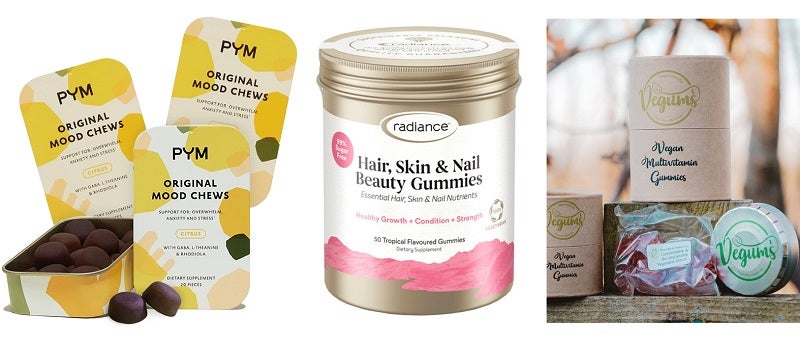 Pym Original Mood Chews use adaptogens to target hormone levels, and manage stress or anxiety. They are packaged in a slide-to-open metal tin, with full print decoration.
Radiance Beauty Gummies provide a sugar-free gummy to support beauty from within. They are packaged in reusable aluminum canisters with a threaded closure.
Vegums are a certified vegan gummy supplement, both shipped and packaged in compostable cellulose wrappers, and recyclable tins, tubes, and envelopes.
As you can see things have come a long way from gummy bears in a plastic pouch. For more information on the best packaging solutions for gummies, email us at marketing@tricorbraun.com.
---
TALK TO A PACKAGING CONSULTANT
Whether you're looking for a stock package or a groundbreaking custom design, TricorBraun's proven process will guide your packaging decisions from napkin sketch all the way to the retail shelf.