Sustainable packaging is no longer optional. Government legislation, large retailers, and consumers are placing responsibility on brand owners to minimize the heavy burden single-use plastics and other packaging pieces on the environment.
The Environmental Protection Agency (EPA) estimates that 28% of municipal solid waste is made up of containers and packaging.
A summary of the latest activity driving the urgency for brands to develop and implement sustainable packaging solutions are:

Packaging Implications
Creating your sustainable packaging depends on your brand goals, your budget, and your timeline – and it incorporates a wide range of decisions along the way. At TricorBraun, our team of experts in design & engineering, supply chain, and quality help our customers evaluate the various materials and methods available to provide the most sustainable packaging solutions, while ensuring product and package integrity are maintained.
Download our roadmap to evaluate packaging options, whether stock or custom, for your product.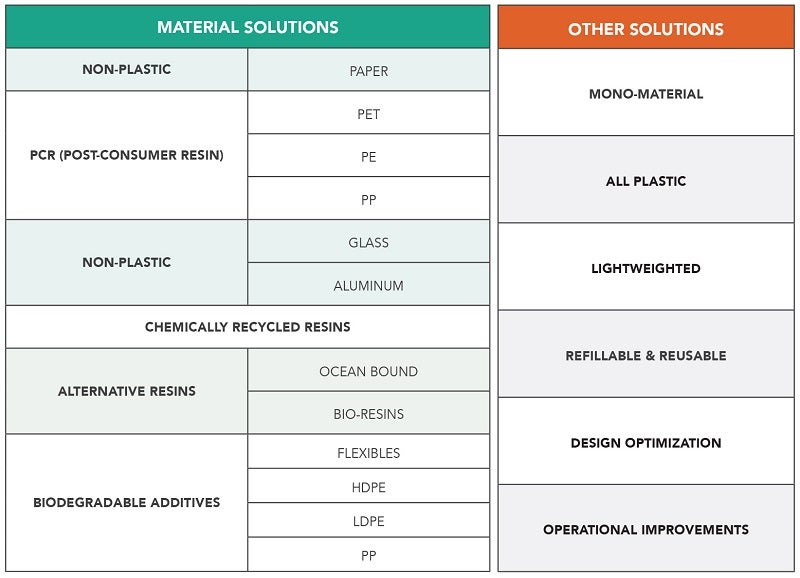 We're ready to help guide you, no matter where you are in your sustainable journey, from choosing the right packaging materials to identifying custom packaging opportunities that reduce environmental impacts. Contact us at marketing@tricorbraun.com to learn more.
Sources:
Containers and Packaging: Product-Specific Data | US EPA
7 Retailers Serious About Sustainability - GSP (gspretail.com)
Plastic packaging tax - GOV.UK (www.gov.uk)
EPR Comparison Tool | Sustainable Packaging Coalition
---
TALK TO A PACKAGING CONSULTANT
Whether you're looking for a stock package or a groundbreaking custom design, TricorBraun's proven process will guide your packaging decisions from napkin sketch all the way to the retail shelf.