We've written a series of blog posts on TricorBraun's Design & Engineering process, including mold development and how we achieve package qualification and validation. But we know they don't cover everything.
There are some questions our customers and prospective customers routinely ask us about our custom packaging solutions and the process we use to manufacture them. Thus we present our FAQ Top 8. If we've missed your question, please reach out to us and ask.
1. Why should we consider custom packaging?
Custom packaging enables you to differentiate your product packaging from the competition. Done right, it becomes an extension of your brand story. In addition to being uniquely identifiable to the brand, the right packaging form and function responds directly to market trends and consumer needs. Done right, your custom package will also drive consumer loyalty and brand growth.
An effective custom package design can not only increase your sales but could also positively decrease your COGS (cost of goods sold). The right design can impact the unit cost by reducing the amount of material used and possibly streamlining the manufacturing process and allowing for faster filling speeds. Design size and form also play a role. For example, shifting from a round package to a square design enables more packages to be shipped in a box or on a pallet, reducing shipping costs per unit.
2. We want our package to represent a particular aesthetic. Is this feasible?
Our designers and engineers will work closely with you to bring your vision to life. We ensure your final package is truly differentiated from the competition, including consideration for any intellectual property that may exist. We pride ourselves on our ability to achieve our customers' desired package design objectives while ensuring manufacturability and cost-effectiveness. If modifications are required, we will suggest creative alternatives to balance your brand vision with the requirements of the manufacturing platform.
3. Can TricorBraun also design the graphics on the package?
Yes! Successful graphics complement the structural design of the package, communicate product benefits, and artfully hold the consumer's interest. TricorBraun's graphic design capabilities include both rigid and flexible custom printed packaging.
We can provide custom graphics for a custom or stock bottle. We can develop custom graphics based on your brand language, ensuring the designs account for the label type needed for both the bottle shape and the labeling equipment. Plus, our team keeps up to date on current trends and uses the best methods to incorporate metallics, textures, and other features to make your brand stand out.
And we don't have to start from scratch. Not only can we create custom graphics, but we can also adapt your existing artwork to a new design concept to bring your package to life. For example, we can adapt existing graphics for a new bottle.
In this way, the package shape can be refreshed to better resonate with consumers, but the brand appearance on the front of the package (via graphics) can be maintained for the customer. This reiterates that it is the same great product—just a new package format.
We can also take any new artwork you provide and show it on new bottle designs to help you visualize what combination of package and artwork best represents your brand. This allows you to see how your brand look and feel will translate across every bottle design option under consideration.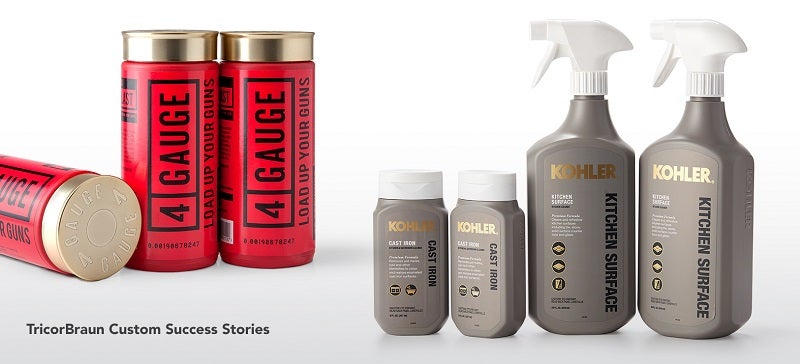 4. How do you ensure the final package is a commercial success?
There are three key ways to ensure that your package succeeds on the shelf:
• Ensure the design is rooted in consumer insights and industry trends
• Design for manufacturing and successful commercialization
• Optimize the supply chain to achieve the right price point and geography
Our designs are rooted in market research. We monitor consumer and industry trends to glean insights to inspire you and drive design and innovation. We then take that design and turn it into packaging that will delight your customers and help your business thrive.
To design for manufacturing, we use 3D modeling to ensure gram weight and overflow capacity are accurate from the start. We check for undercuts. We use 3D printers to validate your design. And we have a team of packaging experts in blow molding and injection molding who double-check our concepts to mitigate any unintended issues before the design goes out the door.
To bring your design to life, we leverage our robust supply chain to find you the best manufacturing partner to ensure successful commercialization. We factor in multiple considerations, including manufacturing platform, geography, and transportation costs. We work with our Supply Chain team to use TricorBraun's network of vendors in the U.S. and abroad to identify the partner who will be the best overall fit for your custom packaging needs.
For more FAQs, stay tuned for Part 2 of our blog series here.
To win with custom packaging solutions from our award-winning Design & Engineering team, contact TricorBraun at 800-325-7782 or marketing@tricorbraun.com.
---
TALK TO A PACKAGING CONSULTANT
Whether you're looking for a stock package or a groundbreaking custom design, TricorBraun's proven process will guide your packaging decisions from napkin sketch all the way to the retail shelf.