Have you ever noticed a "popping" noise when you open a package with a metal closure? That's the sound of an airtight seal meaning your package hasn't been opened since leaving the manufacturer. Plastisol liners are great when you need an airtight seal on your product, especially food products in glass jars such as jams, jellies and pickles.
In order to create a vacuum seal, high heat is necessary, so it's important to note that the container selected must be able to withstand high heat. We will be reviewing the two most common types of Plastisol Liners – Standard and High Heat. Continue reading to find out more!
Types of Plastisol Liners and Product Safety
Standard Plastisol – recommended when using a hot fill and cool process with a maximum temperature of 185°F/85°C. The hot fill and cool process starts when the product is heated and added to a glass container. After the product is added to the container, the lid is applied. As the product cools, a vacuum seal is created, and the customer will hear the "pop" upon opening the package. Packaging Options Direct does not recommend using Standard Plastisol Liners for hot water bath processing.
High Heat Plastisol - also referred to as Pasteurization Grade Plastisol – recommended to use for either hot fill and pasteurize or cold fill and pasteurize processes. The maximum temperature when using these methods is 185°F/85°C, and 195°F/90°C, respectively. When using the High Heat Plastisol, the lowest temperature acceptable is 68°F/20°C. In order to seal these liners, you will need to pasteurize or use the hot water bath process. Pasteurization reduces the risk of food poisoning and helps improve a product's ability to keep for a longer period.

We've made a handy infographic with all the relevant information: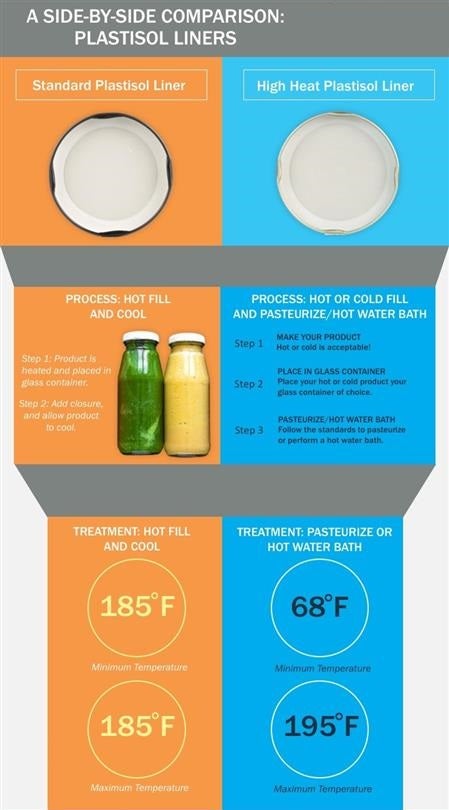 For more information or guidance in selecting the correct liner type, please contact us. As always, you should test for fit and performance of caps to ensure they meet your needs. Get started looking for your perfect Plastisol Lined cap by browsing TricorBraun's stock.
---
TALK TO A PACKAGING CONSULTANT
Whether you're looking for a stock package or a groundbreaking custom design, TricorBraun's proven process will guide your packaging decisions from napkin sketch all the way to the retail shelf.