Custom design is like putting the wrapping paper and bow on your package. Think of it as all the intentional small touches that reflect the product inside, tempt consumers to make a purchase, and convey your brand story. Once your package protects the product inside, the design is your marketing on the box, bottle, tin, or other container.
Creating the perfect package design requires art backed by science. At TricorBraun, we start by looking at market and consumer product trends to understand what people want now. Armed with the data, we then get to work.
Here are some best practices that consumer-packaged goods (CPG) companies should follow when looking to create the ideal package design.
1. Determine your target audience.
There are four generations with purchasing power—and, as the chart shows, each has its own characteristics. Baby Boomers, for example, value convenience so simple clear designs that emphasize value appeal to them. Millennials, on the other hand, are the Instagram generation. Because they crave experiences, look to create packaging that is visual and tactile.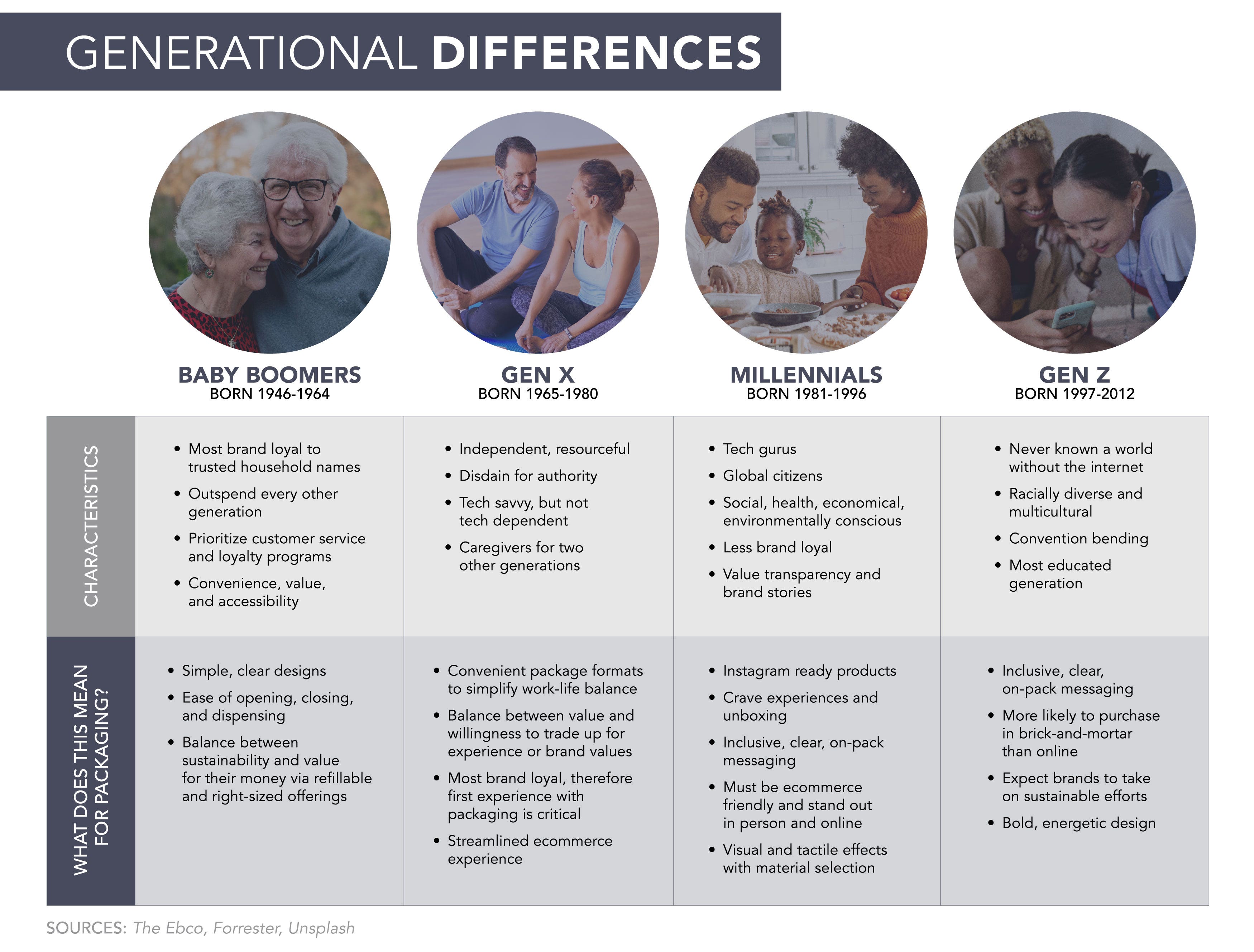 2. Match your packaging to your brand story.
The outside of your package should match the content inside—and both should reflect your brand story. If your ingredients are simple and all-natural, make sure your packaging is simple too and your ingredients prominently listed. If your product is scented, then evoke the scent in the design. There's a reason, for example, that mints are often in green tins and orange-flavored and/or scented products typically have the color orange somewhere in the design. For sustainable products, think about using natural colors and materials and make sure your messaging reflects that you are a responsible brand.
3. Consider breaking the mold.
For a long time, wine in a box was perceived as cheap. Now the move to create more sustainable packaging has sent some premium brands to begin bottling in boxes. Indeed, paired with the right graphics, boxed wine can tell your premium brand story. If you're in a crowded product category, consider how you can stand out.
For example, Maverick Distillery's Tag No. 5 Ontario Craft Vodka bottles are made from a custom smoke gray PET rather than glass. In addition to that, an intricately embossed logo coupled with a distinctive label enables the brand to stand out within the crowded vodka market. Or take Follow Your Heart Rocket Cakes, a ready-made pancake and waffle mix. The 18-ounce bottle design with its sports-drink cap evokes a retro rocket-ship about to blast off into space.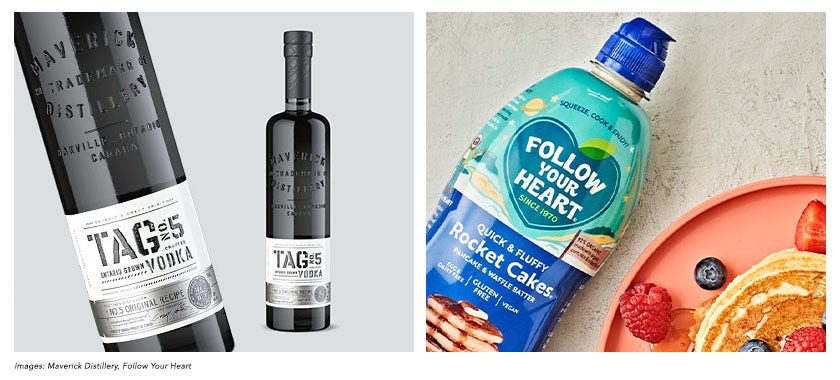 4. Add Texture.
Consider adding texture to your product. For example, Luquire Family Foods Grits is packaged in a custom Bleach Kraft, 1.5 pound biodegradable bag with a stitched closure—and the ends of the stitched string hanging down on each side of the bag. Or take Distillerie 3 LACS, whose gin bottle includes a number of textural elements that also serve to illustrate the company's geographic location and brand story. These include a raised triangle, engraving on the outside of the spirits bottle, and straight corners. Combined, these features create a visually attractive and tactile package—and one that stands out on the shelf.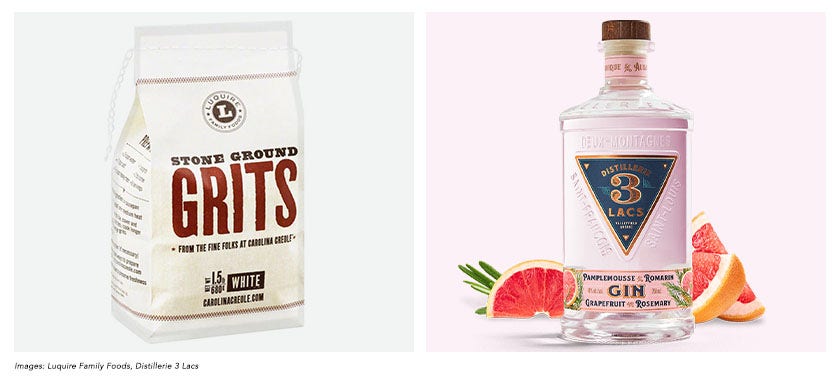 5. Think repurposing and reuse.
As consumers increasingly prioritize responsible packaging formats, consider designing a package that consumers will want to keep long after the product is gone. Achieving this can not only make your product lifecycle more sustainable but it can also help your brand to stay top of mind with consumers. For example, does your product lend itself to a tin or glass with bold graphics that Gen Z or Millennial consumers might want to repurpose for another use?
Finally, custom designs must be on-brand to be effective. Whether it's structure, material, color, texture, or your on-pack messaging, it's important that all the components come together to tell your brand story.
Looking for help creating eye-catching graphic or industrial designs that wow customers? Contact a packaging consultant today to get started. Our team of experts in consumer goods packaging design are ready and able to help take your product packaging to another level.
---
TALK TO A PACKAGING CONSULTANT
Whether you're looking for a stock package or a groundbreaking custom design, TricorBraun's proven process will guide your packaging decisions from napkin sketch all the way to the retail shelf.