Environmental and hygiene related concerns1 are heavily influencing new product launches within the personal care space, and sustainable deodorants are trending2 as a result. As consumers safely socialize again, they are seeking personal hygiene products that support their new lifestyles and values. To address these desires, deodorant brands are evolving to provide:
Increased convenience
New opportunities for personalization
More eco-friendly packaging
Plastic Alternatives
Growing awareness around single-use plastic has consumers seeking products that offer more eco-friendly solutions.
Push-up paperboard tubes are made with recycled content and dramatically reduce the amount of plastic waste when compared to a traditional deodorant stick. Once specific to all-natural brands, paperboard tubes are now utilized by a host of companies from clean beauty brands to large multinational corporations for their eco-friendly packaging.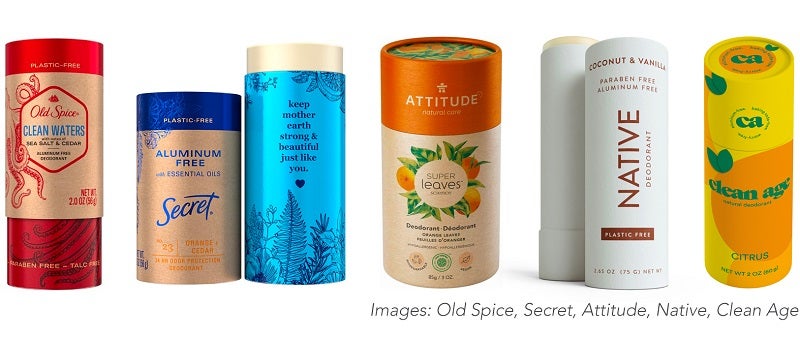 Direct to Consumer (DTC) Subscription Refills
Using a DTC subscription model, consumers can conveniently automate the repurchase of staple products without leaving home. Deodorant brands who leverage this model are adopting refillable package designs to help reduce the amount of plastic used over time.
First time purchases include a durable outer container and removable cartridges to hold the deodorant solid. When the product is empty, consumers can continue to use the outer container and simply reorder a new cartridge. This system also makes it easy to personalize the experience by swapping in and out new scents.
Outer containers are typically made with post-consumer resins (PCR) or aluminum for more premium packages. Refill cartridges are packaged in lightweight, recyclable, materials like paperboard which reduces plastic waste and shipping weight when compared to a traditional deodorant stick.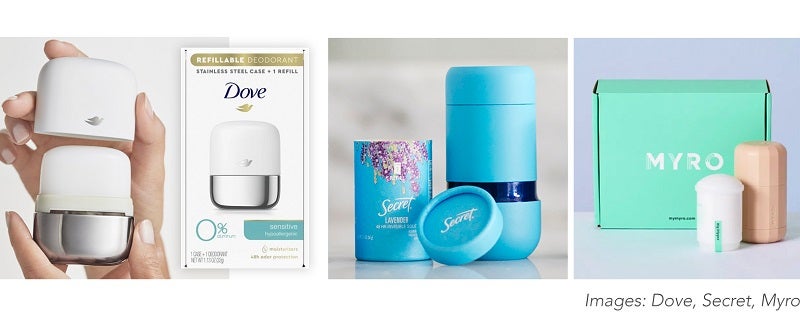 For more information on the best packaging solutions for Sustainable Deodorants, email us at marketing@tricorbraun.com
Sources:
1 ResearchandMarkets.com. North America Deodorants Market Growth, Trends, and Forecasts Report 2021-2026. Business Wire. March 9, 2021.
2 Now Trending in Personal Care. The Ebco. August 8, 2020.
---
TALK TO A PACKAGING CONSULTANT
Whether you're looking for a stock package or a groundbreaking custom design, TricorBraun's proven process will guide your packaging decisions from napkin sketch all the way to the retail shelf.