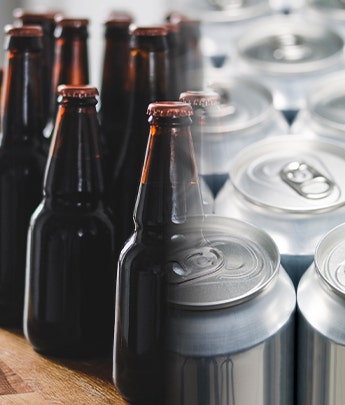 Whether for in-store purchase, home delivery, or direct-to-consumer, consumers are looking for craft beer experiences and calorie-conscious and no-alcohol options.
They're also looking for responsible brands to showcase their sustainable stories. The right packaging will not only offer consumers convenience but also feature distinctive graphic elements to showcase your brand in a crowded beer market, one that's only expanding thanks to the rise of craft brewers.
Beer Packaging Options
At TricorBraun, consumer and market trends guide our insights-driven approach to identifying the right beer packaging solutions for your brand. From recyclable materials to lightweight packaging, we have the cans, bottles, and closures to support your beer products. These solutions can help you make cost effective decisions about your packaging whether the beer bottles you need are for a large producer or a small craft brewery.
Here's a sample of what we offer:
Small format PET
Glass bottles
Amber bottles
Aluminum cans
Tamper-evident closures
Crown closures
Sustainable beer packaging
Get Started Today
Let TricorBraun be your trusted beer packaging partner. Our team of experts will work with you through each step of the process and supply chain to deliver a high-quality packaging solution that conveys your brand story to consumers. We offer a wide variety of options that will help you connect with consumers and differentiate your beer or craft brews from the competition.
Links
Get In Touch
TricorBraun's proven process will guide your packaging decisions from napkin sketch all the way to the retail shelf. Click below to get started.