The TricorBraun Pulse - November/December 2021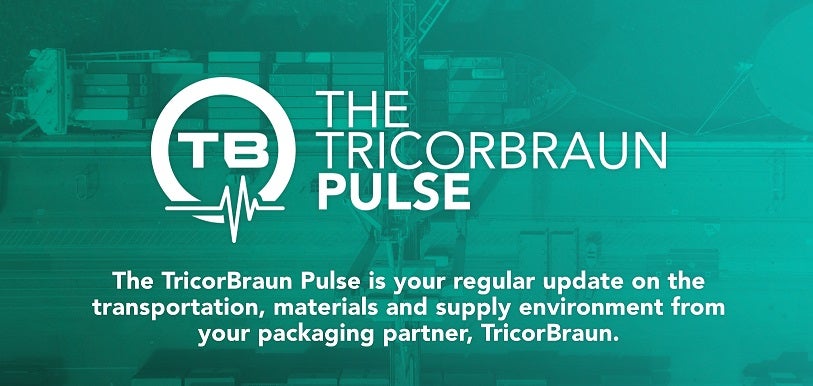 A Message from our Chief Commercial Officer and Chief Operations Officer

Shoppers are shopping and retailers are restocking the shelves when deliveries are finally delivered. This holiday season is a microcosm of the past year: supply chain challenges, soaring prices, and labor shortages. Meanwhile, the growing energy crisis in China is raising energy prices there—and the cost of production—creating concerns about further global inflation in 2022 at the same time as US inflation hits a new high. Add to that congested ports and driver shortages, and disruptions will continue to impact the supply chain for CPG companies well into the new year.
Our entire TricorBraun team understands how demanding these challenges are to your business and we are committed to helping you navigate. Please contact us to see how we can further support you with what other options are available. We appreciate and value your business—and we're here to help.
Sincerely,

The Big Picture
Congestion continues at West Coast ports, including Los Angeles, Long Beach, Seattle/Tacoma, and Vancouver. Meanwhile, a new federally mandated daily emergency fee on containers sitting at the Ports of Los Angeles and Long Beach for 9 days or longer longer is set to take effect in December. The fee, which ocean carriers will pass on to importers and Non-Vessel Operating Common Carriers, ultimately means higher prices for consumers. In other news, the newly enacted infrastructure law includes a provision lowering the minimum age for truck drivers to 18—which should, over time, begin to bring new drivers into the profession.
Details
While ocean shipping rates are holding steady for now, year-over-year rates are significantly higher (up 67% for the West Coast and 125% for the East Coast).
Domestic trucking rates continue to rise and capacity remains a struggle. National spot rates are 19% higher than the same period a year ago.
Ongoing labor shortages are impacting both port and trucking capacity—and the ability to move freight containers out of the ports. The lack of dray capacity and available chassis are hampering hoped for operational improvements after the Ports of Los Angeles and Long Beach switched to a 24/7 schedule.
Our Actions
We are exploring alternative ports and adding new partners as needed to improve transportation rates and maintain high levels of performance. On some occasions we have shipped to an alternative port and trucked the container a longer distance to keep our customers supplied.
We're helping keep overall shipping rates down by negotiating in-country and aggregating demand, thus reducing rate increases that would otherwise be passed along to our customers.
We're reviewing our mix of full truckload and less-than-truckload partners and adding new partners as warranted to minimize the impact of rate increases in 2022.
Learn More
Cargo Jam at LA and Long Beach Ports Begin to Ease as Hefty Fines Loom:
https://www.latimes.com/business/story/2021-11-10/cargo-jam-in-la-ports-begins-to-ease-as-hefty-fines-loom
Packed Ports and Empty Shelves: Inside the Issues Behind the Supply Chain Crisis:
https://www.cbsnews.com/amp/news/supply-chain-crisis-60-minutes-2021-11-14/
Supply Chain Crisis Gives Once Invisible Shipping Industry Record Profits and New Adversaries:
https://www.latimes.com/world-nation/story/2021-11-10/china-global-shipping-supply-chain-crisis
The Next Shipping Crisis: A Maritime Labor Shortage:
https://www.bloomberg.com/opinion/articles/2021-11-06/the-next-shipping-crisis-a-maritime-labor-shortage
Music, Barbecues, Wi-Fi: Managing Morale for Those Idled at Sea:
https://www.bloomberg.com/news/articles/2021-10-18/music-barbecues-wi-fi-managing-morale-for-those-idled-at-sea
The Big Picture
The supply environment continues to offer challenges resulting from material and labor shortages coupled with an ongoing energy crisis in China. The big bright spot: improvements in supplies of HDPE, and PP. PET demand continues to be tight. The biggest challenge: liner supplies are eroding due to demand for foil far exceeding the available supply.
Details
Liner shortages are worsening, driven in large part by a growing foil shortage. Learn more, including what alternative options exist and how you can improve closure and liner supply continuity.
Supplies of PP remain stable despite continued high demand. PE supplies are improving as demand drops. PP capacity is expected to increase 10% in 2022; PE capacity by up to 20%. New HDPE capacity is also coming online.
US PET supplies tightened last month. A key cause: Supply disruptions in China impacted imports, adding new strain on domestic supplies.
Glass supplies remain tight due to continued strong demand and higher commodity costs.
Domestic suppliers are still struggling with labor shortages, resulting in fewer people to work manufacturing lines—a problem exacerbated by a shortage of drivers to get products to store shelves. To attract new workers, companies are offering signing bonuses and relocating people from other regions. These actions, along with new investments in automation, should ease labor shortages moving into 2022.
Our Actions
We're continuing to monitor the energy crisis in China. We'll update you as we learn more about the implications for supply, materials, and production.
We're found domestic vendors for customers looking to shift their packaging to North America to reduce lead times and avoid international freight costs.
We've identified alternative liners and provided samples for qualification when needed. We're also exploring alternatives to liners, including neckbands, tamper-evident closures, and custom solutions.
We're helping customers interested in switching their packaging from glass to plastic. Ask us if you're interested in exploring PET as an alternative to glass.
We're leveraging our extensive warehousing capability to help ensure supply availability for our customers. Ask about how a warehousing agreement could help you alleviate supply disruptions.
We're bringing new glass suppliers on board to try to combat those challenges.
Learn More
Inside America's Broken Supply Chain:
https://www.washingtonpost.com/business/interactive/2021/supply-chain-issues/
Supply Chain Disruptions Will Take "Quite a Long Time" to Resolve:
https://www.cnbc.com/2021/11/03/supply-chain-bottlenecks-will-take-time-to-resolve-shipping-firm-ceo.html
Aluminum Prices Hit 13-Year High Amid Power Shortage in China:
https://asia.nikkei.com/Business/Markets/Commodities/Aluminum-prices-hit-13-year-high-amid-power-shortage-in-China
Aluminum Makers Sound the Alarm About US Magnesium Shortage:
https://www.bloomberg.com/news/articles/2021-10-14/aluminum-makers-sound-the-alarm-about-u-s-magnesium-shortage

The Big Picture
Prices for most virgin resins dropped in October as new domestic capacity comes online. Prices for post-consumer recycled resins remain high.
Details
PP, PE, HDPE, and LDPE prices all dropped last month as new capacity comes online.
PET pricing is expected to increase into early 2022.
Fueled by high demand, post-consumer resin prices remain high. PCR PP and HDPE decreased slightly but remain significantly higher than a year ago. Current PET PCR prices are 68% higher than a year ago.
Supplies of bio-resins remain tight as demand for alternative materials increases.
Our Actions
We're assessing the availability, lead times, and scalability of bio-resins, and we're actively testing products to understand performance in various packaging formats. We're also identifying manufacturers who will run these new resins in their operations.
We are working with key PCR suppliers to secure resin for our customers. Talk to us about how we can help you secure your supply.
Learn More
Falling Prices for Some Resins in October:
https://www.plasticsnews.com/news/pe-pp-resin-prices-drop-october

The Big Picture
There's no escaping it: Inflation is historically bad. Prices climbed 6.2% last month compared to a year ago, the largest surge in 30 years. And its effects are felt on everything from gasoline to food. Meanwhile, the ongoing energy crisis in China threatens to worsen global inflation as energy costs there rise—impacting the cost of producing goods in China. Add that to the trifecta of high transportation costs, rising labor costs, and commodity price uncertainty and producing, procuring, and shipping products is forcing CPG brands to make tough choices. While some businesses have chosen to pass on higher labor, ingredients, and shipping costs to consumers, others are getting creative in exploring all available options.
Learn More
China's Energy Crisis Deepens with Potentially Fatal Consequences:
https://www.forbes.com/sites/arielcohen/2021/10/19/chinas-energy-crisis-deepens-with-potentially-fatal-consequences/?sh=58974b5a1163
Prices Climbed 6.2 Percent as Inflation Strains Economy:
https://www.washingtonpost.com/business/2021/11/10/cpi-inflation-october/

Our team is working day and night to help you manage today's uncertainty, and we'll continue to harness our expansive resources and industry-leading capabilities to serve you. As your global packaging partner, we will continue to leverage our:
Unmatched purchasing power, access, and scale, including a vast supply network of more than 1,000 domestic and international suppliers
Financial strength to make investments that support supply
Strong relationships with strategic suppliers to increase capacity
Stable shipping connections, to move supply even in tough times like these
Team of sourcing experts, on the ground throughout the world, seeking new product options and negotiating supply for your benefit
Dedicated in-house quality professionals, preventing issues and assuring standards
Expert supply and demand forecasting to help you plan ahead, and strengthen continuity of your supply
For more, contact your TricorBraun packaging consultant or marketing@tricorbraun.com.
Get In Touch
TricorBraun's proven process will guide your packaging decisions from napkin sketch all the way to the retail shelf. Click below to get started.