At TricorBraun, doing things the right way is part of our company culture. Doing the right thing related to our environmental, social, and governance (ESG) impacts is an extension of our core values and our company's Operating Principles. We are committed to sustainable and ethical practices because it's good for our customers, our business, and our planet.
Our ESG Roadmap
To guide us moving forward, we conducted a materiality assessment in 2021 to identify and prioritize those issues of greatest importance to our stakeholders, as well as the opportunities for TricorBraun to drive significant impact. That assessment identified the following 10 areas of ESG priority focus.
Get In Touch
TricorBraun's proven process will guide your packaging decisions from napkin sketch all the way to the retail shelf. Click below to get started.
Environmental
Product Lifecycle Management, GHG (Greenhouse Gas) & Climate, and Waste
Social
Product Quality & Safety, Supply Chain Management, Occupational Health & Safety, Labor Practices, DEI and Talent Attraction & Engagement
Governance
Ethics, Compliance & Risk Management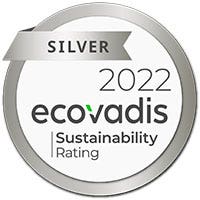 TricorBraun has achieved EcoVadis Silver Medal Status in 2022
TricorBraun has achieved a Silver medal from EcoVadis, the world's most trusted provider of business sustainability ratings. This coveted recognition distinguishes the top 25% of submitted companies with the best ratings for their ethical practices and social and environmental performance.
At TricorBraun, we are committed to sustainable and ethical practices throughout our business. In the last year, we have made many intentional and focused steps to improve our EcoVadis rating from Bronze to Silver. These steps include:
Environment:
Conducting several official ESG assessments and audits to identify opportunities and determine priorities
Matching 100% of our electricity use for 2023 with purchases of renewable energy for our North American operations
Procuring 3 electric forklifts to replace propane forklifts used in warehouse operations
Engaging in a Waste Diversion Pilot Program as part of our Zero Waste Operations initiative
Labor & Human Rights:
Rolling out companywide Global Human Trafficking Awareness Training
Conducting companywide Child & Forced Labor Risk Assessment & Internal Audit
Ethics:
Updating and translating human rights, health & safety, and ethics resources into additional languages for improved accessibility across our global workforce
Sustainable Procurement:
Launching a Supplier Excellence Program- tracking Quality, Service, Programming and Sustainability, as well as adding ESG-focused metrics to our Supplier Audits
Adding ESG to our Supplier Audits and recognizing our top supplier across ESG and sustainable product offerings with the TricorBraun Inaugural Supplier Sustainability Award
Presenting on Sustainability at Nutrition Industry Association 2022 Conference
Our ESG Pillars & Goals
Based on our identified areas of priority, ESG at TricorBraun falls under three strategic pillars:
Our ESG Governance
TricorBraun's commitment to ESG is demonstrated through our actions – we have established an ESG Steering Committee, composed of various members of the company's Executive Leadership Team (including the CEO, CFO and COO), responsible for providing strategic guidance to the ESG Taskforce on the implementation of our ESG initiatives. We have also set up Pillar Teams, each chaired by our Director of ESG & Sustainability Programs and composed of representatives from across the company, to provide direction and set, prioritize, develop, and lead initiatives under each of our strategic pillars. These initiatives will enable us to make iterative, continuous improvements in how we operate and to achieve our goals.
Our first ESG report is under development to discuss our progress in more detail.